Ranking as the world's most expensive real estate market for over a decade, Hong Kong and its future doesn't look bright.
Property prices in Hong Kong are already facing downward pressure. For the first time in many years, home values registered a decline during the final quarter of 2018.
Local sentiment is also very weak. Here's an example: in December of last year, an undisclosed buyer signed a contract for one of the city's costliest homes located on Mount Nicholson.
But less than two weeks later, the buyer backed out of the agreement and forfeited a deposit of HK$36 million (about US$4.5 million). That equals 10% of the total purchase amount.
Of course, if buyers are willing to lose 10% of the purchase price, the implication is they expect at least a 10% drop in Hong Kong's real estate market.
Property values in Hong Kong should fall significantly more than that. Below are three reasons why.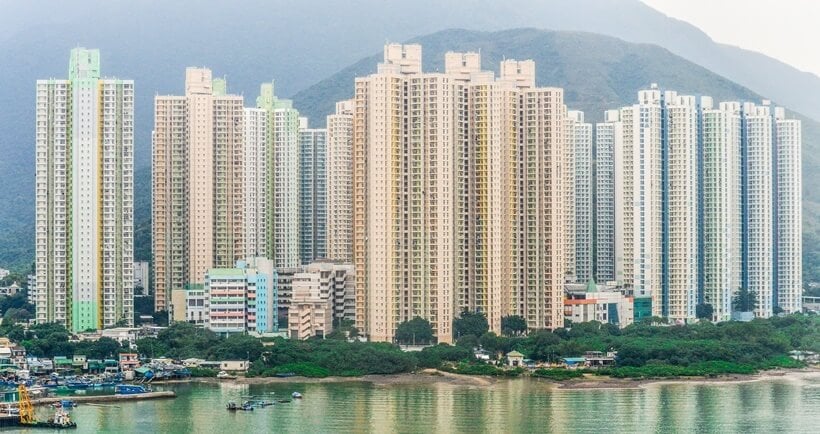 Costing above US$20,000 per square meter, Hong Kong real estate could stay Asia's most expensive. We think prices are about to come tumbling down regardless though.
Major Economic Issues in Hong Kong
Despite its status as East Asia's top financial center, Hong Kong's economy is struggling due to several factors – both financial and political in nature.
A looming trade war between China and the United States is at the forefront of any list that includes Hong Kong's economic issues.
This feud has not solely impacted China's (and thus, Hong Kong's) manufacturing and growth numbers. It has harmed Hong Kong's business confidence and international reputation too.
You might ask "what does the trade war have to do with Hong Kong real estate?". The answer is "everything". Trade and finance are the city's main drivers of economic growth, and yes, its property values as well.
Any problem that affects Hong Kong's wider business prospects will eventually impact its real estate sector. Falling corporate profit lead toward unemployment, less expat housing demand, and other negative consequences for property values.
Furthermore, even putting aside a trade war with the United States, Hong Kong's economy is rather weak in general.
The port of Hong Kong, once China's busiest in terms of cargo tonnage, isn't even in the world's top ten anymore. Six different Chinese ports on the mainland are now outranking Hong Kong as exports slump.
I could write an entire article about Hong Kong's economic problems. But I'll move on since this post is instead about why you shouldn't buy property in the city.
Beijing's Assertiveness Worries Investors
Until lately, Hong Kong real estate served as a storage of wealth for mainland Chinese buyers who are rich enough to afford it. 
Having its own government, press freedoms, lack of censorship, along with GDP per capita far above mainland China's makes Hong Kong truly unique.
It's part of China yet distant from social and functional issues in the mainland.
Beijing has unfortunately begun stretching its influence and diminishing many of the positive aspects that led to Hong Kong's success in the first place. As a result, corporations and private investors alike are becoming anxious.
Multinational firms oftentimes can't freely state their opinions on this matter. Bluntly saying "Beijing needs to back off, or else we're leaving" would be horrible for business at best – and illegal at worst.
However, that's exactly what the mood appears like behind closed doors. Expats want out of China.
A worrying combination of the trade war, strict political control, rising costs, and strong home-country bias is causing investors to leave both Hong Kong and the mainland in droves. That's evidenced by countless polls and a drop in FDI across the board.
Needless to say, fewer expats means declining foreign investment and less housing demand.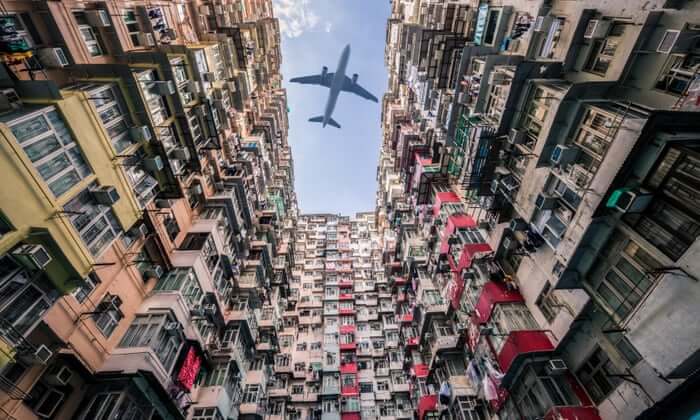 Every plot of land in Hong Kong is bought as a leasehold and will expire in the year 2047.
Better Deals in Other Property Markets
You're no longer restricted by borders in the 21st century. Global investors now have access to dozens of countries and millions of different assets.
Because of this, a main argument against buying Hong Kong real estate is the opportunity cost involved. Nearby markets in the region simply enjoy higher potential for investment.
That isn't just my opinion either. Let's take a look at Singapore, Hong Kong's main competition and Asia's second most important financial hub.
Property values in Singapore, while also among Asia's costliest per square meter, are only half of Hong Kong's. Singapore is generally a wealthier place than Hong Kong as well.
Likewise, rental yields in Singapore are superior, foreigners can legally own freehold property, and the city state is further removed from Chinese influence when compared to Hong Kong.
My point is: the goal of an investor is making money. Why would you buy real estate in Hong Kong if alternatives exist with excellent yields, great appreciation potential, and more attractive valuations? Why settle for a leasehold asset when you can own elsewhere on a freehold basis?
The city absolutely still serves a purpose for international investors. For example, opening a Hong Kong brokerage account is perhaps the best way you can trade stocks in multiple Asian equity markets.
You should probably stay away from real estate in Hong Kong though. Whether you're seeking yields or capital appreciation, Asia hosts numerous better investment options.
Skip the Next Western Recession
Learn the best places to invest - and where to avoid - by downloading our free Investment Cheat Sheet.