Last updated October 12th, 2018.
Home prices in Southeast Asia's financial center have plummeted since the beginning of 2015. Analysts are now worried the Singapore property bubble could burst soon.
Singapore's residential property market has underperformed the rest of Southeast Asia for several years now. Home sales on the island have plummeted by a whopping 48% compared to 2014.
Meanwhile, real estate prices in Singapore fell by 4% in 2014. This was while home values in neighboring ASEAN countries boomed.
Christine Li, Director of Cushman & Wakefield's Singapore branch, expects poor performance in the future. "I think the decline will continue as long as cooling measures are in place."
"I expect the full year decline for the high-end market to be in the range of 5% to 8%, as most owners still have deep pockets who are able to hold it out," she explained.
Singapore's Foreign Investment Rules Under Fire
The government tried cooling down real estate values and avoiding a Singapore property bubble since way back in 2009.
Measures have mostly targeted foreign buyers in Singapore. They include higher taxes, borrowing limits, and restrictions on the number of properties that non-residents can own.
But these efforts might have all have backfired. Apparently, foreign buyers were needed to support Singapore's real estate market.
Initial deterrents failed to even push away foreign buyers. Many have deep pockets, are from countries like India and China, and aren't letting higher taxes deter them.
They often consider their home nations as economically unreliable and see Singapore as a safe place to store their wealth.
Additional Buyer's Stamp Duty (ABSD) was imposed in late 2011 and meant an additional 10% tax on all foreigners buying property in Singapore.
This tax increased even further to 15% a few years after it was implemented. Reduced transaction volume across the city state quickly followed.
Since then, real estate prices in Singapore have suffered a massive fall. Developers believe the measures to avoid a property bubble have gone too far, destroying the island's luxury property market.
The Real Estate Developers' Association of Singapore asked the government to ease regulations and stop prices in the luxury property market from decreasing further.
"Not many Singaporeans are buying into this segment. Prices have indeed come down substantially," explained Augustine Tan, the association's president.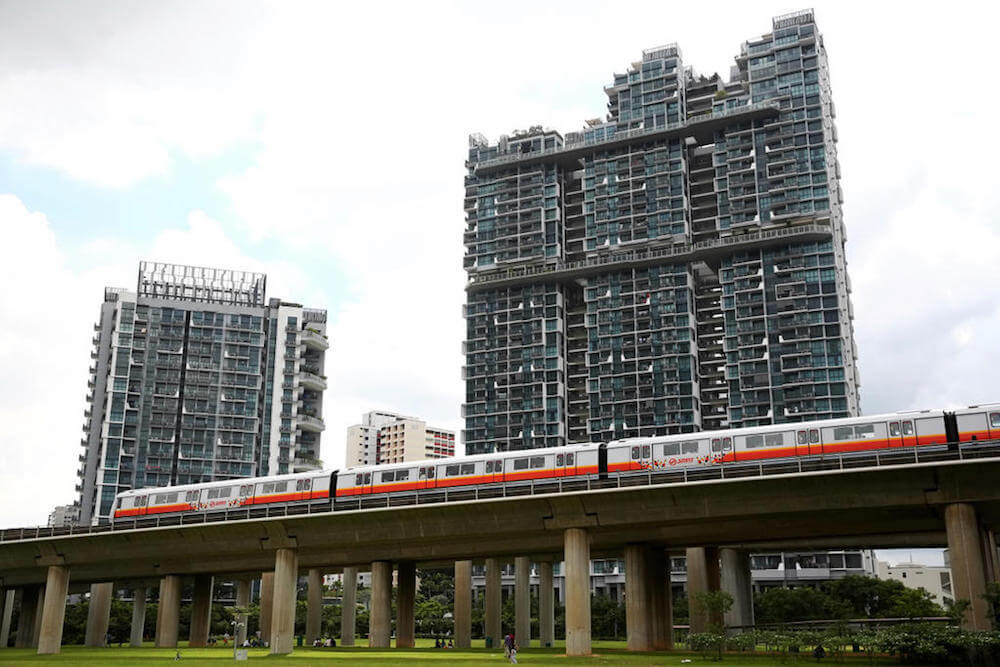 Despite sluggish real estate sales and falling prices, construction across Singapore is still thriving.
Developers Predict Singapore Property Bubble
City Developments, one of the largest property developers in Singapore, believes the housing market could face foreclosures and fire sales.
They believe it will happen as rental demand plummets, making homeowners unable to pay off their mortgages.
"Average residential rents across all market segments, particularly the high-end, are on the decline. This is coupled with a weak secondary market," warned the chairman of City Developments, Kwek Leng Beng.
"If this trend continues, with prices dipping more, some mortgage borrowers affected by lower rentals may have difficulty servicing their loans, possibly leading to forced fire sales," said Kwek.
Singapore clearly has a difficult time ahead of it. Eyes are on the ruling People's Action Party (PAP) to achieve a balance of keeping the city state's property market robust yet sustainable at the same time.
With all of that said, Singapore's commercial real estate sector has higher yields and more potential than residential properties.
Smaller investors like most of our readers clearly can't buy large malls in Singapore. But they can own shares in companies or REITs that do.
Just make sure you aren't investing at the top of the market. The Singapore property bubble could very well be at its peak.
Skip the Next Western Recession
Learn the best places to invest – and where to avoid – by downloading our free Investment Cheat Sheet.