Update for October, 2018: This article was originally written in 2015. Our predictions were accurate and the Malaysian Ringgit saw significant depreciation over the past few years.
However, we now rate the currency a "buy" and believe it's near a bottom. We updated all numbers in this article to reflect more recent figures.
The Malaysian ringgit (MYR) has suffered from intense downward pressure. That's because of a strengthening US dollar and falling commodity prices.
It's expected this trend will continue alongside movements in bond markets and issues with Malaysia's fiscal budget. The latter will batter the currency even worse.
Currently, the Malaysian ringgit floats at around 4.2 against the US dollar. That's way above 3.8 where it was pegged against the USD during the 1997 Asian Financial Crisis and near its all-time low.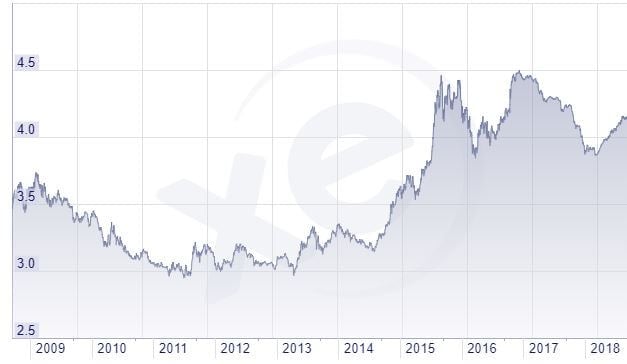 10-year chart of the Malaysian ringgit compared to the dollar.
Is This a Malaysian Ringgit Crisis?
According to some analysts, the ringgit's free fall is mostly due to market adjustments.
Saktiandi Supaat, Maybank's Head of FX Research, stated that political instability creates uncertainty through the bond market. That's because foreigners own a significant portion of bonds in Malaysia.
He explained that changes in foreign sentiment toward Malaysian government bonds could shift the ringgit's volatility to the weaker side.
But some experts say even though the ringgit fell past 3.8 against the dollar, this should not be a huge concern.
Sim Moh Siong, director and FX strategist at the Bank of Singapore mentioned "If you look beyond the ringgit slide, the financial conditions in Malaysia today are much more supportive compared to what we saw in the Asian Financial Crisis."
He believes that even though 3.8 is a historic peg level, it's more of a psychological key number than anything else. For him, the Malaysian ringgit's depreciation and financial conditions have been quite orderly.
Malaysian Ringgit vs. Singapore Dollar
The Malaysian ringgit also fell against the Singapore dollar, trading at near all-time lows. The ringgit traded at 3.13 against the Singapore dollar on September 9th, 2017.
Singaporeans are especially taking advantage of this opportunity. The number of tourists coming to Malaysia from across the border is increasing as the ringgit falls.
According to Malaysian travel agencies, some months are seeing holiday package bookings rise by 10% or more compared to last year.
Money changers saw even more impressive numbers. They said the demand for Malaysian ringgit doubled between some months. A few of them even ran out of ringgit as large numbers of Singaporeans rushed to exchange their SGD.
We at InvestAsian expect the Malaysian ringgit to underperform, even when compared to other regional currencies in ASEAN and East Asia such as the Thai Baht and Japanese Yen.
We suggest holding a minimal amount of the currency if possible.
Skip the Next Western Recession
Learn the best places to invest – and where to avoid – by downloading our free Investment Cheat Sheet.