Last updated June 26th, 2023.
Vietnam has made rapid progress over the past several decades, averaging GDP growth rates exceeding 7% during the 1990s and 2000s.
It remains one of the world's fastest growing economies, and owning property in Vietnam is a popular way to profit from the nation's rise as a foreign investor.
Buying real estate here is arguably the best method to profit from Vietnam's strong demographic trends and rising middle class.
Over the years, Vietnam has especially become competitive in its industrial and manufacturing sectors. China is falling in popularity among global firms which increasingly prefer building factories in Southeast Asian countries like Cambodia, Thailand, and of course Vietnam.
This is probably caused by rising costs, more regulations, weaker growth, and a strong "home-bias" in the Chinese market. A looming trade war with the United States also doesn't help problems in Asia's biggest economy.
Whatever the primary cause of capital fleeing from China might be, East Asia is currently experiencing a downturn while Southeast Asia is on the rise.
As such, many investors are looking at Vietnam – Southeast Asia's third most populous country and one of the fastest growing in the region. But foreigners have, at least up until recently, had few options when investing in Vietnam.
Lack of investment variety in Vietnam is quickly changing though, with the government relaxing property ownership rules for foreign investors.
Anyone with either a 3-month tourist or residence visa may now own land on a renewable, 50-year lease. Foreign companies have even less restrictions when buying property. It's not quite that simple and there are additional rules, discussed further below, that you should consider.
However, there's little doubt Vietnam is going in the right direction. The government is actively making it easier to purchase assets here as a foreign real estate investor.
Places like Cambodia and Thailand, right now, make owning property as a foreigner less difficult than Vietnam. With that said, the Vietnam government has made clear which direction they're moving by lifting restrictions on foreign ownership of both companies and property.
Until things are easier for investors, there are still countless ways to start investing in Vietnam property. It's definitely bureaucratic, but once you have figured everything out it's possible to (at least de-facto) own apartments and houses alike in Vietnam.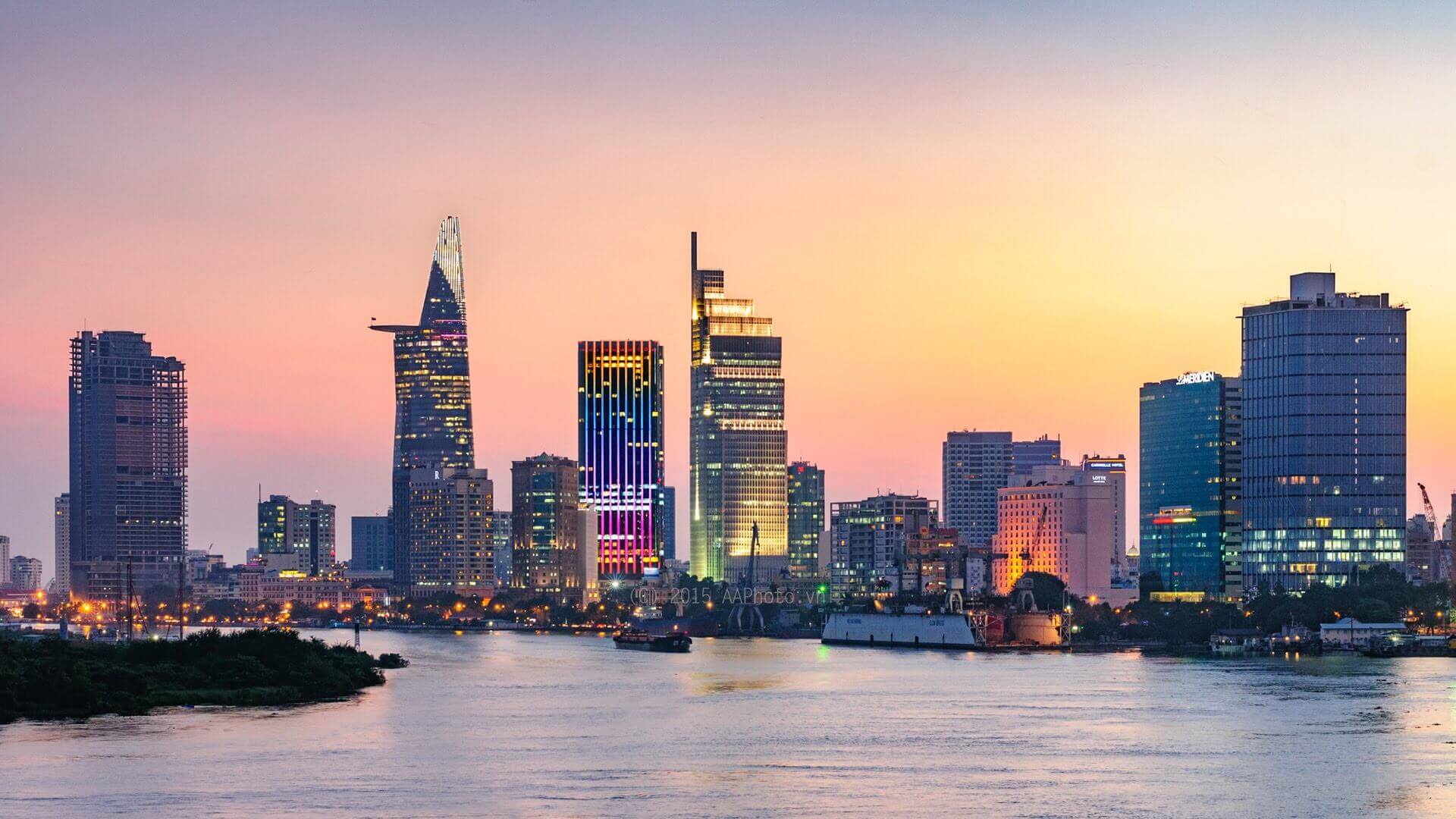 Ho Chi Minh City, often referred to as Saigon by the locals, is Vietnam's largest city and one of Asia's fastest-growing.
There are lots of reasons to invest in Vietnam real estate right now rather than waiting until it's more straightforward – apart from the fact that entry barriers are keeping asset valuations low at the moment.
First off, demographics are in Vietnam's favor. While nearby countries such China and Thailand are about to suffer from population decline, analysts predict Vietnam will grow from its current population of around 95 million today to almost 120 million by 2040.
Rapid urbanization should keep driving up real estate prices in the center of all major cities in Vietnam.
Second, Vietnam is one of the fastest growing nations in the world. Future trends still remain positive as the government continues making it easier to conduct business.
Pioneers reap the greatest rewards when it comes to frontier market investment. Vietnam is not easy or straightforward to buy property in, although that isn't necessarily a bad thing since entry barriers have kept values fair.
Can Foreigners Buy Vietnam Real Estate?
In a word: yes. But it's more complicated than that. Vietnam's foreign property ownership laws limit the maximum number of foreign owners in a neighborhood. Freehold ownership is also not permitted.
For starters, land may only be leased in Vietnam. Whether you're a local or a foreigner, all land plots are collectively owned by the state and can only be leased on a 70-year basis. It's possible to own houses and structures. Just not the land they're are built on.
With that said, you have an option to extend a lease in Vietnam once it expires. Barely anyone thinks the government will decline those wishing to renew their leases – real estate ownership in Vietnam will probably be easier in 50 years.
The other two restrictions are that foreign buyers may only own up to 30% of units in a single condo building. Furthermore, only 250 houses in a specific administrative ward can be foreign- owned. Neither of these limitation apply to overseas Vietnamese.
Obviously, both those rules are a greater concern in denser cities like Hanoi and Saigon when compared to elsewhere in Vietnam.
These laws are still rather new and Vietnam used to have even more restrictions. Until foreign ownership rules were liberalized back in 2015, you needed to have a Vietnam residence visa before buying property.
We're mentioning this not to dwell on the past but to show the positive direction Vietnam is moving in, albeit slowly.
How Much Are Real Estate Taxes in Vietnam?
Fees are payable by the buyer when transferring property in Vietnam. There's a 5% VAT (Value Added Tax) in addition to a registration fee worth 0.05% of your asset's value.
If any profit is made upon selling property, the seller also must pay a small capital gains tax of 0.15% on the realized profit.
Rental income is paid at Vietnam's normal flat income tax rate of 20% as well. However, if you ask local landlords, you'll find that hardly anyone ever bothers to pay it.
Technically, there is also a land tax paid at 0.03% to 0.15% of its total value with the exact rate depending on the land's size. This tax is again rarely payable or enforced in practice.
Don't misunderstand us: that's not a suggestion that you shouldn't pay rental income or land taxes in Vietnam. It's just a statement of reality. Few locals pay these assessments, and usually the government leaves them alone.
Is Buying Property in Vietnam Safe?
Vietnam has a well-documented land registry and the government keeps good track of plots in all major cities. Unless you're buying land in a very rural area, you're unlikely to have any issues regarding clarity or lack of property rights.
Problems buying Vietnam real estate will come from sellers instead of the government. Similar to most other countries in Southeast Asia, it's always worth looking into the reputation of a property developer before you purchase from them.
There are some well-established companies with lots of projects to show. But if you buy from a small developer with few (if any) complete buildings, you will have a bigger risk of construction either not moving ahead on schedule… or stopping altogether in the worst case.
Whether you're buying from a reseller or a property developer, it's always important to get an inspection done.
Sellers are known to hide structural problems and other issues such as water damage. Make sure you understand your rights and know exactly what you're purchasing.
Best Places to Invest in Vietnam Real Estate
Vietnam is the third most populous country in Southeast Asia with nearly 100 million inhabitants. Despite its rather strict regulations, foreigners can buy property in Vietnamese towns and cities that range all different sizes.
Many foreign investors choose buying property in Ho Chi Minh City (Saigon) or Hanoi. Most of the rest purchase in beachfront cities and resorts like Nha Trang, Hoi An, and Da Nang.
Foreigners can usually buy in smaller, less populous towns as well – at least in some form. But Vietnam has dozens of cities with at least a few hundred thousand people living in them.
As such, we will focus on Vietnam's larger cities and resort areas for the purposes of this guide. Covering every single place you could buy property in Vietnam just wouldn't be possible (unless we wanted to write an entire novel about it).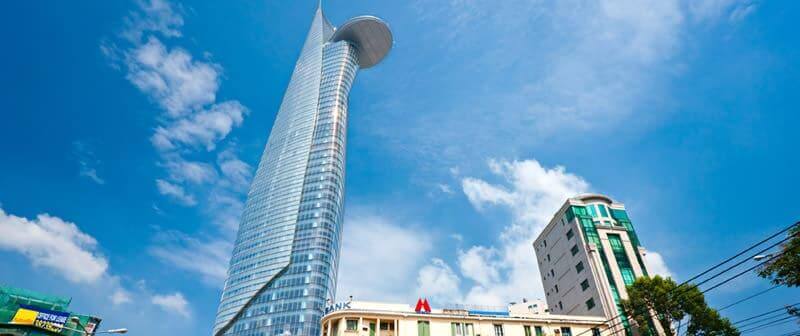 The Bitexco Financial Tower is Vietnam's tallest building. You can see it from practically any location in central Saigon.
District 1
The very center of Ho Chi Minh City, District 1 is Vietnam's focal point for business, commerce, and finance. It therefore follows that its rent and property costs are the most expensive in the whole city.
Hotels, offices, and other skyscrapers are built on some of the country's most prime pieces of land. Of course, an increasing number of apartments and condos are sprouting up near them.
That doesn't mean the entirety of District 1 is glitzy. Nor that there isn't a clear supply of apartment buildings in dire need of renovation. There are plenty of fixer-uppers, on the contrary.
Just keep in mind that you're going to pay significantly more for property in District 1 than you would elsewhere. In fact, this neighborhood's real estate values are higher than in some other, developed Asian capitals like Kuala Lumpur.
Moving west, away from the Bitexco Tower and Saigon River, prices become manageable while supply is readily available. There are notable investment prospects on District 1's western side if you have a larger-than-average budget.
District 2
Located on the other side of the river from downtown Saigon, District 2 is geographically close to the city center. It's nonetheless separated by an underwater tunnel – and often lots of traffic as well.
However, District 2 provides a very high-standard of living. Owning a large house in a guarded, gated community is possible here. That makes the neighborhood ideal for those with a family and some spare cash.
Some of Vietnam's best international facilities are also in District 2. Combined with a plethora of top restaurants and stores, it makes this area among Ho Chi Minh City's most desirable for both expats and upper-class locals.
District 5, while not being different enough to warrant its own section in our guide, does have a similar vibe to District 2. Instead of being across a river from central Saigon, District 5 is located several kilometers south of the CBD.
District 3
In the center of Saigon yet outside its main commercial area, District 3 is considered to be the city's "hippest" and most upscale residential neighborhood.
Many expats prefer living in District 3 since it's near the restaurants, bars, and countless other amenities of District 1 although further away from its chaos.
For comparison, it's similar to Thong Lor in Bangkok. If you're less familiar with Southeast Asia, it's Ho Chi Minh City's answer to Fifth Avenue if District 1 were Times Square.
Prices are still high in this area, but not quite as exorbitant as in District 1. You also have more property investment options since District 3 isn't as packed with skyscrapers.
Districts 5 & 10
Districts 5 & 10 share several things. These two neighborhoods are rather small compared to most other districts. Additionally, both are located within walking distance of one another.
Not far from District 1, these two areas replace the pricey restaurants and stores found in the city center with street food and markets. Housing prices are significantly lower as well.
We'redefinitely not saying Districts 5 & 10 are dumps. Some of Saigon's top universities and most famous temples are found here. Granted, we're no longer talking about expat areas. You won't see lots of western amenities or foreigners living in these locales yet.
That's probably a good thing. We expect these two areas, as dense as they already are, to benefit from Vietnam's healthy urbanization trends. Districts 5 and 10 should enjoy a respectable rise in property values over time.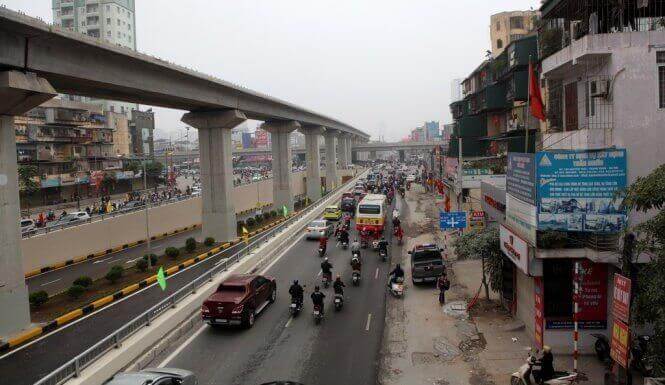 Construction is booming in Hanoi, with an elevated transit system that's reminiscent of Bangkok's BTS skytrain recently finished.
Hanoi
The nation's capital and second largest city, Hanoi provides a noticeably different feel than Ho Chi Minh City. You shouldn't be surprised that its property market is also very different.
Hanoi is more low-rise than its larger neighbor to the south. Because it's the political center of Vietnam rather than its financial hub, they lose out to many expats and businessmen who are sent to Ho Chi Minh City.
Therefore, a strategy of focusing on the high-end expat market isn't nearly as viable in Hanoi when compared to Saigon.
Nonetheless, embassies, start-ups, and NGOs all still play a part in luring well-paid expats here. So there's still some potential in the local market, even if Hanoi's quality expat numbers lag far behind Saigon.
But if you're buying real estate in Hanoi instead of Saigon in the first place, it might be better to target the city's local market – not expat housing.
Tay Ho
Translated into English as "West Lake", Tay Ho is considered Hanoi's most desirable residential district. Many of Vietnam's political elite and foreign ambassadors choose to live in one of this neighborhood's massive, guarded houses lining the streets.
Built around a large lake with the same name, Tay Ho district is peaceful and serene. Yet it's a short drive away from Hanoi's downtown and the nation's political center.
With all that said, it shouldn't surprise you that land prices in Tay Ho are among Hanoi's most expensive in. The sheer size of the district is probably the only reason why plots of land in Tay Ho are even still listed.
Just to the south of Tay Ho, Ba Ding district is where lots of Vietnam's embassies and government offices are based. There is also property available in Ba Ding, although it's not different enough from Tay Ho to warrant its own section.
Hoan Kiem
Named after a lake which the district is built around, Hoan Kiem is better known as Hanoi's old quarter. It's one of Vietnam's most popular tourist destinations as well.
People often love Hoan Kiem's vibes, but properties in this small and centrally-located area are owned by local Hanoians who have lived there for generations. Thus, real estate in Hoan Kiem usually not for sale and supply is prohibitively expensive when it's purchasable.
Hai Ba Trung
Hai Ba Trung's location to the south of Hoan Kiem allows it easy access to Hanoi's commercial core along with its restaurants, shopping, and other facilities.
Property in Ha Ba Trung, sometimes referred to as "HBT" by the locals, is readily available. Yet prices are expensive compared to the rest of Vietnam's capital, even if not prohibitively so.
Meanwhile, new cafes and restaurants are opening every month. Hai Ba Trung is certainly one of Hanoi's fastest growing areas in the city's central core and investors may want to take note of this rapidly developing area.
Dong Da
The densest area in Hanoi and one of the most crowded in all of Vietnam, you won't find many expats in Dong Da which is almost purely a local neighborhood.
With that said, change is truly happening in Dong Da. The nearly total absence of foreigners by itself could mean it's worth a closer look for prospective real estate buyers.
More development is happening in this working-class neighborhood than likely anywhere else in Hanoi and you can see clear signs of progress on every corner of Dong Da's streets.
I wouldn't recommend living in Dong Da, but as is the case in most of developing Asia, you can achieve higher returns by going to the "gritty" areas where other foreign investors don't dare.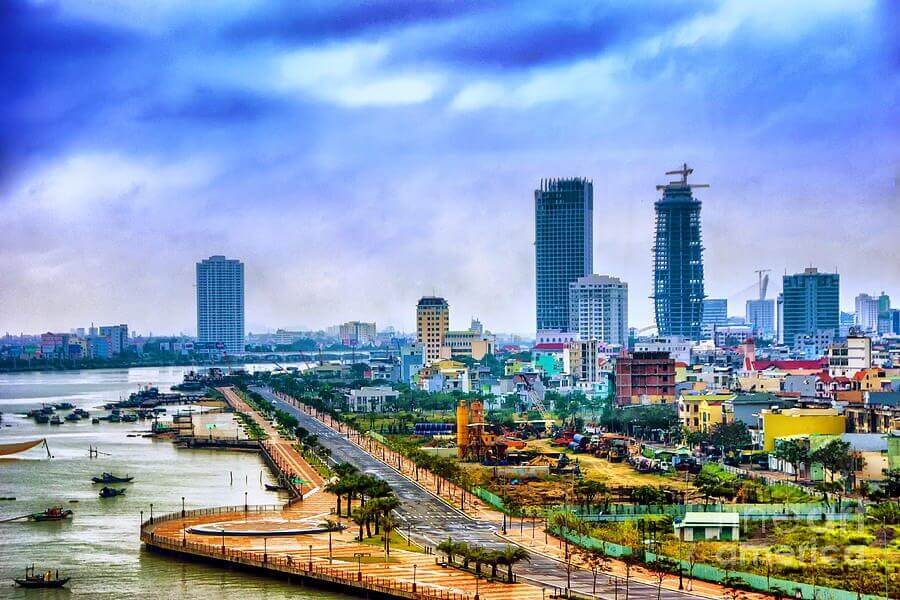 Da Nang isn't just a tourist destination or beach resort. It's a true, genuine city with millions of inhabitants and a real economy.
Da Nang
A bustling beachside city of over a million people, Da Nang is the third largest city in Vietnam – though it's not nearly on the same scale as Hanoi or Ho Chi Minh City.
Da Nang is one of Vietnam's more popular cities for wealthy foreign buyers and retirees. Even with its smaller size, there are a greater number of hotel branded residences here than either Hanoi or HCMC.
Hyatt, Sheraton, Movenpick, and other international brands have set up condotels in Da Nang. They remain some of Vietnam's most expensive properties.
Similar to other beachfront cities, you can find luxury real estate in Da Nang on its coast where ocean views are available. The Han River runs through the city center with prime properties on its shores as well. Things become more local once you're further inland.
Hoi An is around 25 kilometers south of Da Nang and they both share some of the same traits. But Hoi An is smaller, comparatively secluded, and feels like a resort instead of a city.
Some expats prefer living in Hoi An. Regardless, foreigners have far fewer options when buying real estate down there and it's aimed at tourists rather than long-term residents.
Nha Trang
Nha Trang is much closer to Ho Chi Minh City than Vietnam's other beachside resort areas. It's especially becoming popular among second-home owners and city dwellers who want a quick weekend getaway.
Like Vietnam's middle class, Nha Trang's skyline is starting to rise as locally-based Vietnamese tourists become more financially capable of taking vacations.
Our readers who are familiar with Southeast Asia often say that Nha Trang resembles Pattaya in Thailand – both in terms of its feel and proximity to the nation's largest city.
Real estate prices are noticeably lower than in Hoi An or Nha Trang. But demographics are also weaker. Furthermore, the "quality" of its tenants are poorer.
This doesn't mean wealthy buyers from HCMC are not present in Nha Trang's property market. You're just more likely to run into backpackers and cheap retiree renters than in Da Nang.
As a landlord, your best options in Nha Trang are either catering to local tenants or a non-ideal segment of the foreign market.
Most investors would probably be better off in Da Nang than Nha Trang if they insist on buying beachfront property in Vietnam. For anyone that doesn't need an ocean view, Ho Chi Minh City and Hanoi both enjoy better rental yields and appreciation prospects.
Hiring Real Estate Agents in Vietnam
You'll find the local Vietnamese don't really use property agents. In fact, there's little concept of a realtor across developing Asia in general unless you're a foreigner.
Real estate agents in Vietnam mostly exist to simplify the process for international buyers who cannot speak Vietnamese.
Locals typically buy and sell properties through friends, family, and co-workers. Whether doing so is practical or not, many Vietnamese would rather list a property themselves than pay a fee to a real estate agent.
If you value the services of a realtor and want to remove hassle, that's fine. Simply remember, as a buyer, that a bunch of listed properties won't be available to your realtor.
Likewise, as a seller, you'll lose several percentage points worth of profit when using a realtor. Commission fees in Vietnam are usually about 3%.
Is Buying Vietnam Real Estate a Good Investment?
Vietnam enjoys solid long-term potential, although perhaps even more caveats. Heavy foreign investment limitations combined with one of the worst performing currencies in Asia (the Vietnamese Dong) makes its property market less profitable than it may seem on the surface.
Investing in Vietnam property isn't necessarily a bad idea and you might turn a profit if you buy. But you have better options in the region. Vietnam has a lot of bureaucracy and nothing unique to lure investors over the competition.
Buyers in Malaysia can fully own land and obtain a long-term visa through their investment. In Thailand, condominium owners benefit from one of the region's most stable currencies. Those in Cambodia reap the rewards of one of the fastest growing economies on the planet.
Foreigners are allowed to freehold property in all three of the aforementioned countries. You can't say the same about Vietnam.
In contrast, Vietnam doesn't have the right incentives. No matter who you are and what you're looking for in a real estate purchase, you'd get better results elsewhere – at least until Vietnam opens up more to foreign buyers.
Returns are often easier to make in places that are not yet overrun by foreign investment. But if the government forces you to jump through hoops to make returns, it may be worth looking into alternatives.
Currently, Vietnam's property market isn't user-friendly enough to justify the potential returns. Keep your opportunity costs in mind and consider looking elsewhere in Southeast Asia – unless you specifically want to buy real estate in Vietnam.
Skip the Next Western Recession
Learn the best places to invest - and where to avoid - by downloading our free Investment Cheat Sheet.