Last updated April 13th, 2023.
Real estate in Vietnam is booming – especially in the nation's largest metro area. And buying a condo in Ho Chi Minh City is an increasingly popular way to invest in Vietnam's stellar economy.
Thanks to rapid economic growth, a rising middle class, and an influx of foreign capital, the country is now a property investment hot spot.
Vietnam is one of Asia's most promising markets. Its GDP has increased by over 7% annually for decades, and it's quickly eclipsing China as a manufacturing hub. This growth has boosted local income and lured the attention of multinational firms.
Despite its potential, Vietnam has historically turned investors off due to its strict limits on foreign capital. Neighboring markets like Thailand and Cambodia are far easier to do business in.
However, the Vietnamese government has warmed up to outside investment in recent years, lifting restrictions on foreign property ownership.
While buying a condo in Vietnam still involves plenty of bureaucracy, the country is moving in the right direction.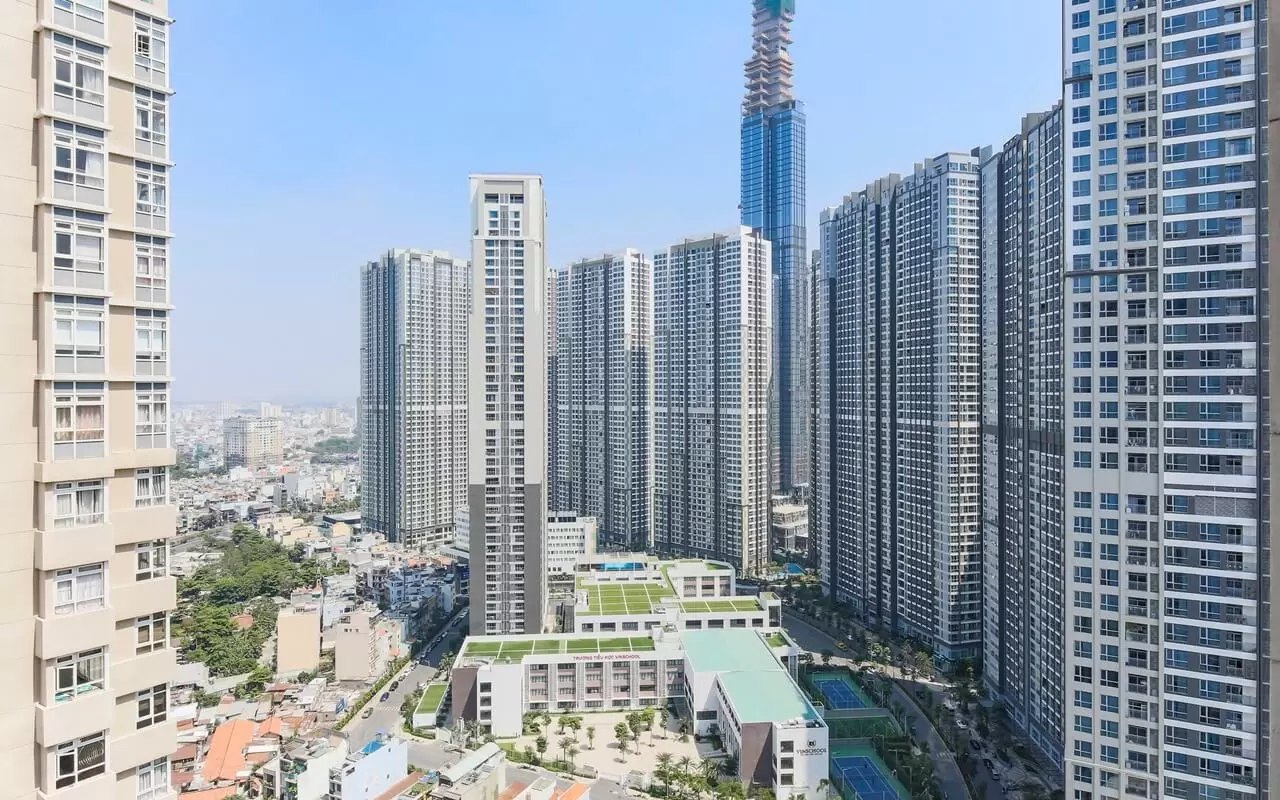 Vietnam's real estate market stayed closed to foreign investors until fairly recently. Today, you can effectively obtain a long-term, 50 year lease on practically any property in the whole country.
Ho Chi Minh City, also known as Saigon, has become particularly popular among expats and investors. This fast-growing city is Vietnam's international commerce hub, and its rapid development offers plenty of business opportunities.
Saigon is also home to some of Asia's best real estate investments. Property prices here remain remarkably low with massive potential for growth, so buying a condo in Ho Chi Minh City presents a unique opportunity to take advantage of Vietnam's economic boom.
This guide will primarily focus on buying condos, which are relatively common and easy to purchase. If you're interested in land or commercial property, check out InvestAsian's guide on Vietnam property.
Foreign Property Ownership in Vietnam
Compared to other Southeast Asian countries, Vietnam's foreign property ownership laws are fairly strict. Vietnamese law limits the number of foreign owners in one area, and both locals and foreigners can only own leasehold property.
Vietnam's property ownership system is a remnant of its communist past – every plot of land is collectively owned by the state.
You can therefore lease land in Vietnam for a maximum 70-year period in a special economic zone (SEZ).
Lease terms are shorter in Vietnam's non-SEZ areas though. If you're buying residential property in most parts of the country, the maximum leasehold term is just 50 years.

And you may or may not be able to extend these leases after they expire. Current lease renewal laws are new and untested.
Quite frankly, who could say what Vietnam's laws and standards will possibly be like in 50 years?
If you're set on freehold ownership, which we generally suggest over leases, here's our list of five countries in Asia where foreigners can own land.
Vietnamese law also places strict limits on foreign ownership in condo buildings. 30% of units in any one condo building can be foreign-owned, which will limit your investment options.
Fortunately, Vietnam has become increasingly open to foreign investment, particularly in real estate. Vietnam used to only allow foreigners with residence visas to buy property, but lifted that restriction fairly recently.
While Vietnamese real estate laws are strict compared to elsewhere in ASEAN, and full foreign freehold ownership isn't yet allowed, the country is moving in a positive direction. It's still not as easy as nearby Malaysia or even Thailand though.
How Much Does a Saigon Condo Cost?
Despite Vietnam's rapid economic growth, Saigon continues to have some of the lowest real estate prices in Asia.
Average property values in HCMC are substantially lower than in similar cities, such as Bangkok or Kuala Lumpur. They're also a small fraction of housing costs in Singapore or Hong Kong.
On average, you'll pay just over $2,000 per square meter for a standard apartment in the city. Buying a luxury condo in Ho Chi Minh City often costs upwards of $5,000 per square meter though.
Naturally, prices vary based on your condo's location. You might be able to find a 2-bedroom condo for $150,000 in a residential district, but you'll pay much more in the city center.
On top of these low prices, investors stand to gain substantially from buying a condo in HCMC. Property values in Saigon frequently surge by double digits. Between 2018 and 2019, they rose by over 20%.
Rental yields are equally as lucrative. Landlords earn an average of over 5% in most parts of the city.
If you missed out on the most recent surge in Vietnamese housing prices, we think the next country to follow that type of growth in the 2020s will be Cambodia.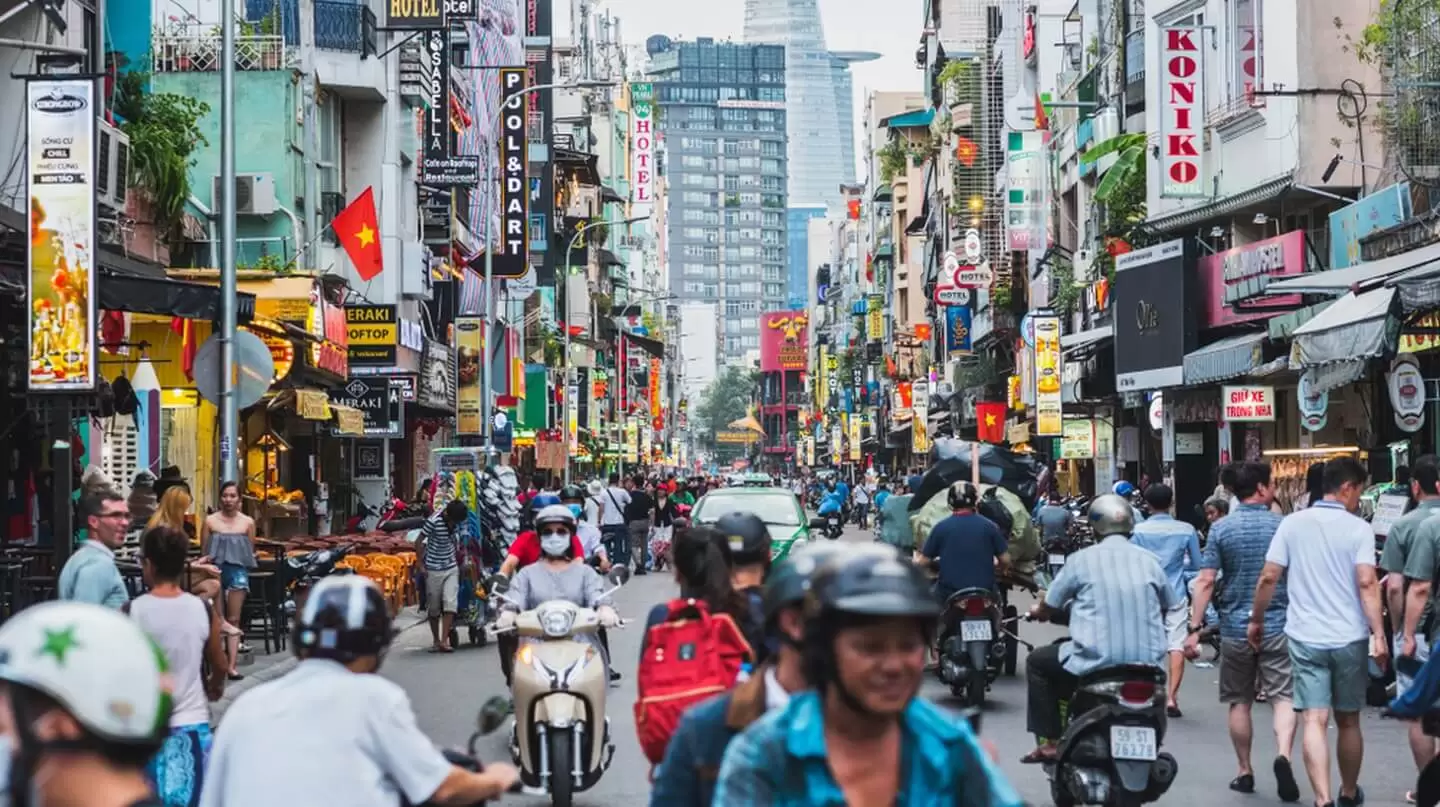 District 1 is Ho Chi Minh City's financial and commercial center. It's the most densely populated neighborhood in Saigon, holding claim to some of Vietnam's most expensive pieces of real estate.
Neighborhoods in Ho Chi Minh City
HCMC is Vietnam's largest urban hub and one of Asia's fastest-growing cities. In fact, the city has 19 urban districts and 4 suburban ones.
Choosing from 23 districts can seem overwhelming, but you'll quickly find that the best condos in Saigon are in Districts 1, 2, 3, 5, and 10.
Districts 1 and 3 comprise the city center while Districts 2, 5, and 10 are rapidly developing. Each offers various benefits and drawbacks for investors and potential residents.
District 1
District 1 sits at the center of Saigon as Vietnam's top business hub. International offices, swanky hotels, and famous landmarks like the Bitexco Tower and Notre Dame Basilica fill this prime area.
Naturally, property costs here are higher than in other districts. In some areas, units are more expensive than those in more developed Asian cities like Kuala Lumpur.
However, District 1's high prices also come with high rental yields and high appreciation potential. As Ho Chi Minh City continues to grow, city-center property will become even more coveted.
You can also find more affordable real estate on the west side of this district. Many new developments have sprung up there, or you can choose from plenty of lucrative fixer-uppers.
District 2
Sitting just across the Saigon River, District 2 is a favorite among upper-class locals and expats because of its high living standards.
This upscale neighborhood is home to some of the city's best international facilities along with a solid selection of shops and restaurants. It's far away from the chaos of District 1, but still an active part of the city.
District 2 also has some of the best housing options in Saigon. Condo-buyers here have plenty of high-quality units to choose from.
The only drawback to living here is commuting to the city center. Although District 1 is not far away geographically speaking, bridges and tunnels across the river are frequently congested.
Investors looking for a condo in District 2 should therefore pay close attention to Saigon's developing public transit network. Property near Metro stations will become increasingly valuable.
District 3
District 3 also borders District 1, but on the opposite side. Like District 2, it offers a high standard of living, but it's far more lively and less removed from the city center.
This area is often compared to Thong Lor in Bangkok or Fifth Avenue in New York City. It's an active neighborhood close to main attractions, but it's less chaotic and expensive.
District 3 is known for its hip shops and restaurants as well as its abundance of colonial architecture. It also has a bustling nightlife scene that makes it popular among young locals and expats.
While you won't find sprawling gated communities in District 3, you'll find plenty of high-end developments alongside historic buildings. This gives you plenty of interesting options when buying a condo in District 3.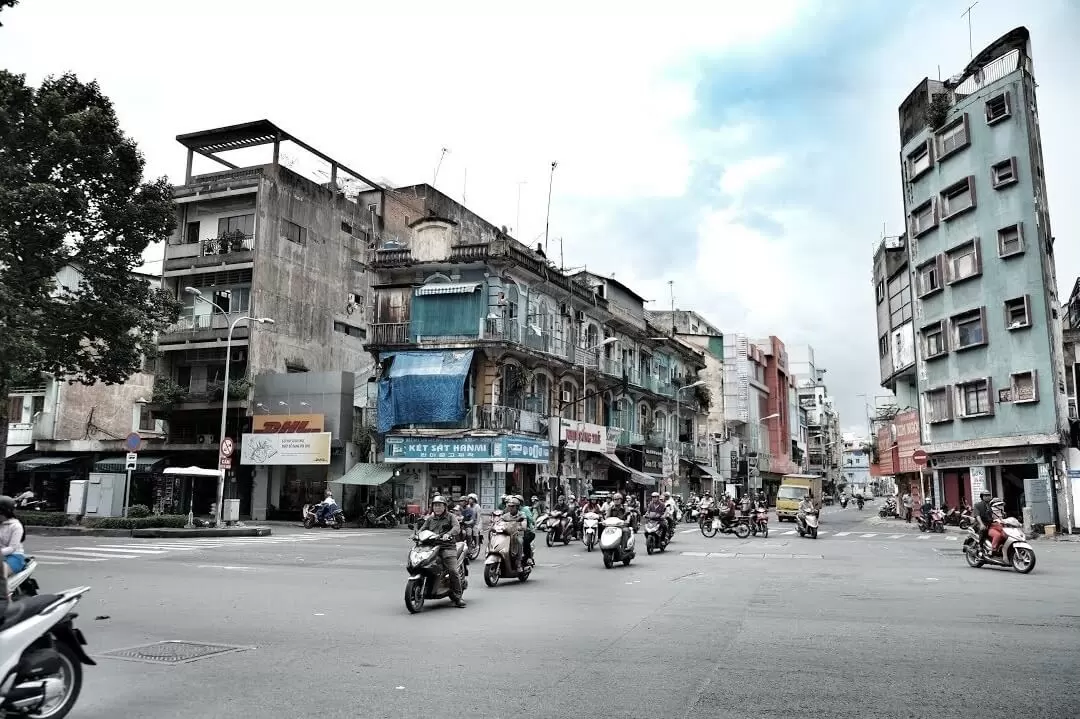 Districts 5 and 10 arguably host some of Ho Chi Minh City's best deals. You'll generally be dealing with fixer-uppers though. And let's face it, it's hard enough finding a good contractor in developed markets. Truly thriving in Vietnam requires local contacts.
Districts 5 and 10
Districts 5 and 10 border each other in south-central Saigon. Both districts are more removed from the city center while remaining accessible, and they are home to many universities and famous temples.
The largest benefit of living in this area is cost. Condos here are extremely affordable, and these districts are poised to gain from HCMC's continued expansion.
However, Districts 5 and 10 do not have the international amenities of more central areas. Street stalls and markets are more common than restaurants, and only a handful of expats live here.
Buying a condo in District 5 or 10 is a smart investment for the right person. These areas still have a ways to go in terms of development, but an apartment here could appreciate substantially in the long term.
Property Taxes and Fees
When you buy a condo in Ho Chi Minh City, you will typically pay a registration fee of .05% of your condo's value. The government also levies a 5% VAT (Value Added Tax) on the total amount of your purchase.
After selling your unit, you must pay a 0.15% capital gains tax on the profit that you make from the sale.
You should also be aware of the land tax, which can range from 0.03% to 0.15% of your property value, as well as rental income tax, which is a flat 20% rate.
These taxes appear high, but in reality, most are rarely payable or enforced. That doesn't mean that I condone dodging your taxes – it's just a simple reality. Many locals do not pay these fees, and the government generally does not intervene.
Property Developers and Agents
Unfortunately, the majority of problems that condo buyers in Saigon face come from sellers and developers. 
Like most major Southeast Asian cities, you should research a developer before buying from them. You can avoid most issues simply by choosing reputable companies with a strong history successful projects.
A quick way to figure out if a developer is good? Google one of their complete projects, and look at reviews/pictures left by tenants.
Novaland, Vingroup, Dat Xahn Group, and CapitaLand Vietnam are some of the best and most established property developers in HCMC.
Foreign buyers also commonly use real estate agents to overcome language barriers and navigate government bureaucracy. As with developers, you should be sure to choose a highly rated agency with a proven track record.
Finally, before you buy your condo, you should hire an independent inspector. Sellers and developers frequently hide issues like structural problems or water damage, so you should investigate the property yourself.
Regardless of occasional problems with property developers though, we certainly think Vietnam is one of Asia's top countries to invest in 2023.
Skip the Next Western Recession
Learn the best places to invest - and where to avoid - by downloading our free Investment Cheat Sheet.