Last updated May 7th, 2021.
The media draws much attention to Myanmar and its ongoing process of opening up to foreign investment.
Countless multinationals including Coke, Visa, Samsung, and Yum! Brands are rushing to profit from Myanmar's high-growth consumer market. It's Southeast Asia's so-called "last frontier".
You're more likely nowadays to hear about the nation's Rohingya genocide than its economic liberalization. Nonetheless, Myanmar is chugging along despite bad international publicity.
But putting mainstream news trends regarding Southeast Asia aside, another frontier market boasts even greater investment potential and less of the hype: Cambodia.
Cambodia: Asia's Last Frontier Market
Myanmar and Cambodia both share a similar history. Myanmar's foreign investor law emerged back in 2012, one year after its military junta was dissolved. The Asian Development Bank then engaged its newly elected government to fund infrastructure projects.
Cambodia's turning point was around 15 years earlier. The nation's first democratically elected government began a transition from a planned economy to its current market based economy in 1995.
Both nations certainly qualify as frontier markets. Myanmar's nominal GDP per capita is $1,299 which is among Asia's lowest. Cambodia is just slightly wealthier at $1,384.
This is Cambodia's strength. They had 15 more years to develop and work out any problems in their foreign investment laws. Compared to Myanmar's, they're now clear and straightforward.
In Cambodia, a foreigner can safely own property, easily obtain permanent residence, and isn't concerned about the legal climate changing by the day.
You can't say the same about Myanmar. It's "the country offering the least legal protection for foreign companies" according to British risk analysis group Maplecroft.
Myanmar is politically unstable – even nowadays. The old military junta still backs the currently "elected" government and continues playing a prominent role in politics.
Fraud allegations in Myanmar's latest elections were rather widespread too. The law does not guarantee freedom of speech while political discussions are heavily censored.
Smaller buyers especially face problems investing in Myanmar with a property market that is weak, overpriced, and bureaucratic. You don't really have an option to buy stocks either since the Yangon Stock Exchange only lists five tradable public companies.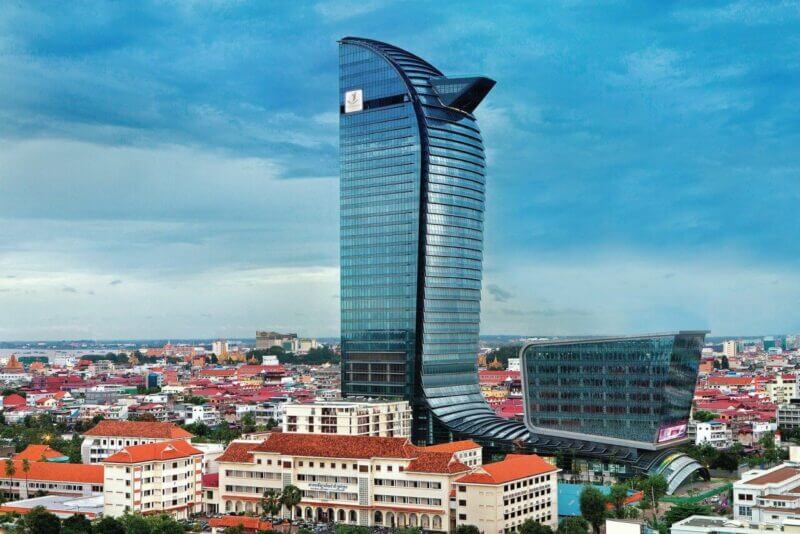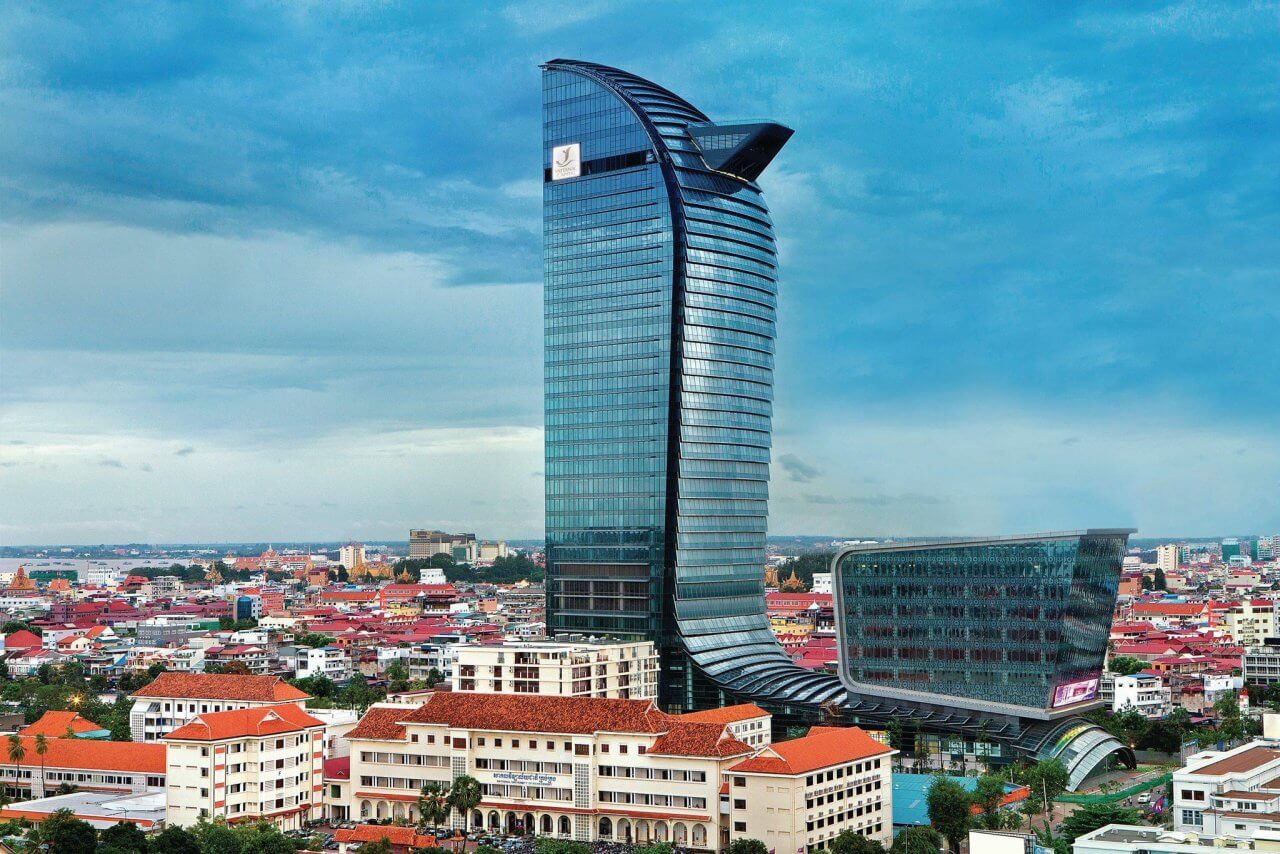 This large, modern office building in Cambodia is the type of infrastructure which Myanmar still lacks.
A Better Frontier Market Than Myanmar?
Cambodia certainly isn't a bastion of democracy itself. But it's a large improvement compared to Myanmar.
Freedom of speech is a right that is guaranteed in Cambodia's constitution. Furthermore, most elections since 1993 have gone by without major allegations of fraud… and there hasn't been a coup in decades.
These are all things even Cambodia's far wealthier neighbor of Thailand cannot claim.
Both Thailand and Myanmar are now growing at a rapid pace and have great opportunities for investors. Cambodia's economy grew by 7.5% in 2018 while Myanmar's increased 5.9% during the same year.
However, while Myanmar might be the better place to invest in a decade from now, it's just too risky and bureaucratic to recommend over Cambodia.
Starting a business in Cambodia is a breeze compared to Myanmar. You can also buy property in Cambodia as a foreigner while the laws in Myanmar remain opaque several years after their introduction.
Keep in mind: when investing in frontier markets, things written in the rulebook aren't usually how they work in practice.
The lesson is that markets which are pumped up by the media are precisely that: inflated and pumped up. You must have a unique outlook to find the best global investment opportunities.
Plus, a big reason why frontier markets have great potential in the first place is because they're undiscovered. You shouldn't follow the herd and ruin the nature of that perk by taking CNBC's investment advice.
Want to learn more about how to invest in Cambodia? Here's an article explaining more about the country and its prospects.
Skip the Next Western Recession
Learn the best places to invest - and where to avoid - by downloading our free Investment Cheat Sheet.