Last updated October 28th, 2019.
With high growth rates and unprecedented change throughout the region, Southeast Asia is home to many of the world's best startup ecosystems.
Singapore is currently leading Asia in having the best environment for startups. The city-state of 6 million people also ranks among the world's easiest places for doing business in general.
However, other Southeast Asian countries are increasingly luring talented entrepreneurs and investors with deep pockets.
Malaysia, Indonesia, Vietnam, the Philippines, and Thailand are all competing to improve their startup ecosystems. Thailand especially shows promise in becoming another booming hub for startups in Asia though.
A main reason is because Thais have great affinity for the entrepreneurial spirit. Simply look at any street in Bangkok and you'll see tons of vendors with their own businesses.
Startups in Thailand are well-positioned because of good quality infrastructure, far lower costs than China, along with a strategic location in ASEAN's geographic heart.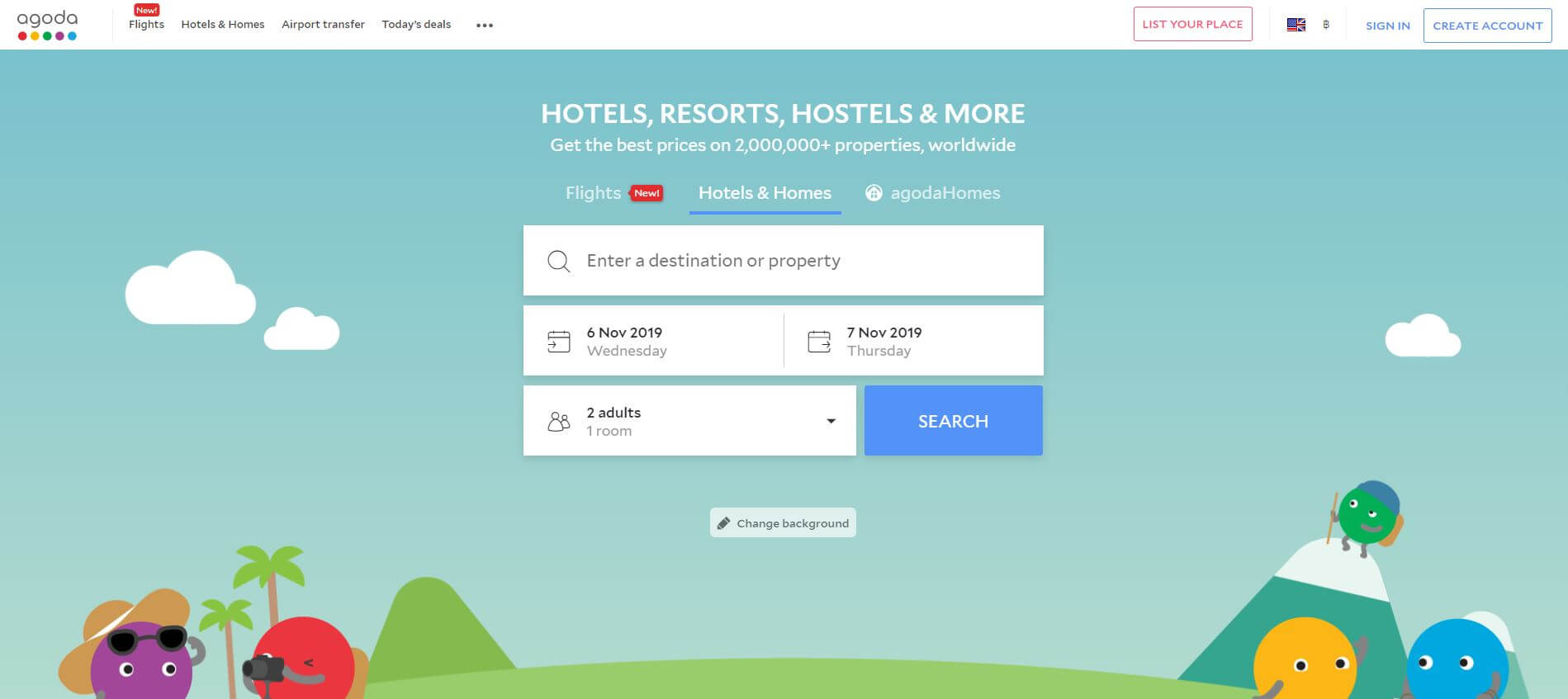 Perhaps the most famous Thai startup, online travel agency Agoda formed during the late 1990s in Phuket.
Why Form a Startup in Thailand?
Thailand possesses several big advantages that might propel their future startup environment.
Compared to neighbors such as Singapore, Thailand offers among the region's cheapest living costs and office rentals. Bangkok boasts the region's best cost of living to development ratio as well.
Likewise, the country provides a rich culture, wide assortment of cuisine, and vibrant nightlife. This not only draws more talent into the kingdom, but often makes expats who already live in Thailand want to stay longer.
Plentiful English-language signage and a global atmosphere makes it easier for expats to live in Thailand permanently. Meanwhile, tourist infrastructure is geared toward helping foreigners stay here temporarily.
Furthermore, Thailand enjoys a strategic location in the Asia-Pacific region's heart. In fact, they share a greater number of land borders than any other ASEAN country except Laos.
With six different international airports, Thailand is certainly an emerging flight hub. Bangkok's Suvarnabhumi airport among the few in ASEAN having direct flights to everywhere in Asia and most countries in Europe.
Last, and maybe most importantly, Thailand has one of the highest rates of internet and social media users on the planet. The mobile penetration rate is a staggering 150% – that's one and a half phones for every Thai person.
Lots of Different Thai Startups
Many startup success stories originate in Phuket, Chiang Mai, and Bangkok. These range from local startups to firms that large, foreign multinationals later acquired.
Thailand is home to some of the most prominent acquired tech companies in the region. Just a few Thai startups on the list include:
The online hotel booking website Agoda. Founded in 1997,

Priceline

.

com

acquired them with the intention of strengthening their foothold in Southeast Asia.
The daily deal site Ensogo. Founded in 2010, LivingSocial from the United States acquired the company one year later to expand their global presence.
Beyond nurturing companies which were later bought, Thailand also has numerous successful local startups that successfully rose capital from VCs and overseas investors.
A few honorable mentions include:
Thailand's very own restaurant review website Wongnai was founded in back 2010 and went through two rounds of fundraising. Both of these rounds were from Japan's Recruit Strategic Partners, estimated at over US$1.5 million in total.
The digital publication platform Ookbee. Founded in 2011, its current funding stands at US$9 million.
E-commerce solutions provider aCommerce. Founded in 2013, its current funding stands at US$18.8 million from multiple VCs.
Foreign-Owned Startups in Thailand
But Thailand's local startups aren't the only success stories. The country has many prominent foreign-owned startups that are performing strongly.
A few big names include taxi app Grabtaxi, restaurant delivery service Foodpanda, and online shopping websites Lazada and Zalora, and even Facebook as they search for a regional office in Bangkok office.
Forming these tech startups wouldn't have been possible without support from venture capital groups that are willing to finance such ambitious projects.
Regarding fundraising, Thailand proudly has two major crowdfunding platforms. Five different Thai-based VC firms and six foreign VCs actively invest in the country too.
Thailand boasts five different startup incubators and accelerators. Three of them are owned by telecom giants DTAC, TRUE, and AIS.
With the emergence of countless networking events, incubators, and venture capital firms, the Thai startup ecosystem is maturing at a rate you shouldn't ignore.
Are you thinking about investing in Asian startups? You might also consider Vietnam which, like Thailand, is among the region's top startup markets. Both nations offer immense opportunities if you're a hands-on investor.
Skip the Next Western Recession
Learn the best places to invest - and where to avoid - by downloading our free Investment Cheat Sheet.