Last updated September 17th, 2023.
Buying a condo in Phuket is something that thousands of foreign investors have already done. It's certainly easier to own real estate in Thailand compared to most other countries in Asia.
Thus, if you want to own property on a Southeast Asian resort island, Phuket might be near the top of your list of possible locations.
Diversification of manufacturing supply chains toward Southeast Asia is leading many adjacent countries to benefit as they receive capital inflows from otherwise unexpected sources – including Thailand.
The "Land of Smiles", is one of the most popular travel destinations in the world even on its own though. Phuket's white sand beaches, along with countless other factors, have made Thailand one of the most visited countries in the world.
Increasingly, Thailand's growing economy and middle class make it an attractive place to buy property and do business. It doesn't hurt either that regions like Phuket and Bangkok are a short flight away from frontier market investment destinations like Vietnam and Cambodia.
Put simply, Thailand is at the crossroads between trade and leisure while also having ties to both the East and West. That's why foreigners buying a condo in Phuket or other parts of in Thailand is such a common event.
Phuket, Thailand's largest island, is a gem among Thai real estate investors. Barring present conditions, it has great appreciation potential as the region primarily derives its income from tourism.
This pivot from its former cash cow of tin and rubber has proven to be so lucrative that, nowadays, Phuket is Thailand's wealthiest province on a GDP per capita basis.
Overall, Phuket's newfound wealth brought about from the last decade's tourist boom has also created a lively business culture. In fact, young people in Phuket don't tend to live lives all that dissimilar from their Bangkok peers.
Worth noting though is that the cost of living in Phuket, on average, tends to be about 10% lower than in Bangkok. This also translates into cheaper properties, and the price per square meter can be up to 70% cheaper in Phuket than in the capital.
Phuket's rental yields are comparable to the 5% returns found in other Thai cities. Add to this the potential capital appreciation from increased tourism demand and buying a condo in Phuket seems like an attractive deal.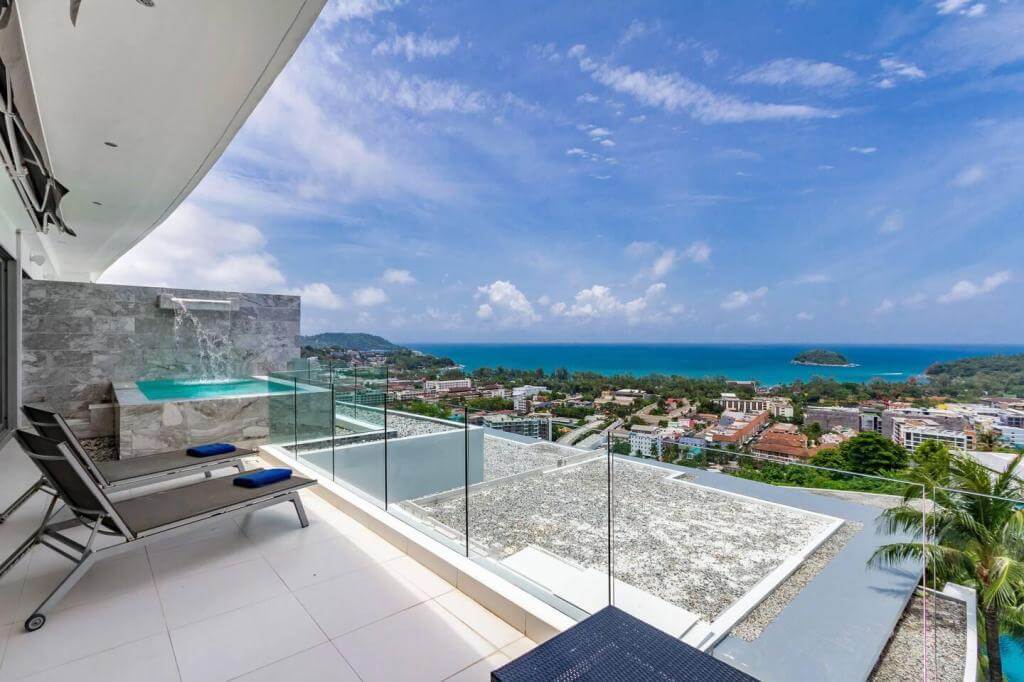 Foreigners are able to buy condos, like the one pictured above, in Phuket. Land ownership isn't allowed if you are not a Thai citizen though.
Foreign Property Ownership in Phuket
Before we go any further though, let's address the elephant in the room.
Asia, generally, is far more protective about foreign investment and Thailand is no exception as it isn't particularly open to foreign investors.
There are many region-specific restrictions, which are subject to change. But broadly speaking, here are the things you need to bear in mind.
First off, foreigners may not own land in Phuket and can only own up to 49% of above-ground condos.
Secondly, there are also various bureaucratic requirements that you will have to meet. And it isn't merely the government that you'll be dealing with, since you will also need to deal with certain financial procedures when transferring your money into a Thai bank account.
Buying a condo in Phuket is not as easy as showing up with the cash and wiring it to a developer. The foreign currency must be sent to a Thai bank and they must do the currency conversion into Thai baht.
However, once you manage to overcome those initial problems, it's smooth sailing. Given the expat boom, the process of buying a condo in Thailand as a foreigner has become quite straightforward and the record system is fully digitized.
Therefore, notarizing documents, tracking title deeds, etc. isn't as big of a headache in Thailand as it often is in other developing countries.
How Much Does a Phuket Condo Cost?
As one of the most visited beachside tourist destinations in the world, the same principles apply to buying a condo in Phuket as when you're searching for a hotel.
Generally speaking, the closer you get to a beach, the more expensive real estate will be. That's irrespective of whether or not there is a seaside view – although a having a view will add a premium in its own right.
Mueang Phuket District on the South end of the island is where the most popular beaches are. Thus, it makes perfect sense that the costliest real estate prices are found in this district.
In either case, property values on Phuket can range from $3,000 (THB100,000) per sqm on the low end, to $6,000 per sqm on the high end.
That said, due to the tourist-focused nature of Phuket's economy, condo and housing prices have trended downwards since the start of the global pandemic.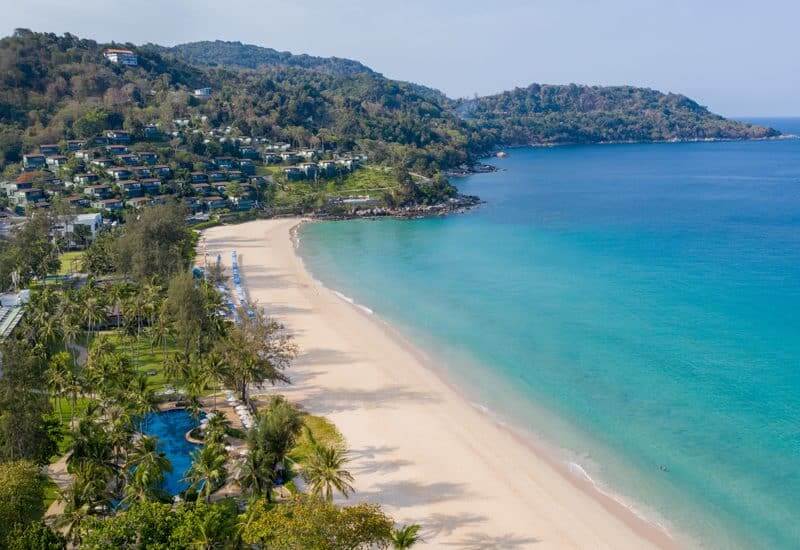 Kata Beach is one of the most desirable beaches to live on Phuket. Condos and villas with a view of Karon, Kata Noi, and Surin Beaches are also costly and in high-demand.
Where Should You Buy Property in Phuket?
We have divided Phuket into three main regions, each with their own unique strengths and weaknesses, which we'll cover below.
It's worth mentioning that if you were to go from the Northern tip to the Southern tip of the island it would be 58.6km by road, and it would take you about an hour by car.
As such, when talking of prime locations or proximity to certain places in Phuket, it's best to remember that it's meant in relative terms. Not in absolute terms.
Consequently, the best location to buy real estate in Phuket primarily depends on what you are personally looking for. The North has nature reserves and the airport, while the South is closer to popular beaches and the provincial capital of Phuket Town.
Southwestern Phuket
This area contains the Patong, Karon and Kata beaches, which are the most popular tourist areas. As might be expected because of this, it is quite lively and there are a wide variety of restaurants and entertainment venues nearby.
Prices are generally more expensive in Kathu District compared to anywhere else in Phuket. So this can either be a blessing or a curse. If you're looking to rent a condo, then this area likely has the most chances of being in demand.
On the other hand, if you're looking to become a long-term resident, things might just be too chaotic in places like Patong Beach.
Then, there are Karon Beach and Kamala Beaches, which are the most prone to tsunami damage since they're not protected by a bay. We generally do not suggest buying a condo in these areas if you're a long-term investor due to their natural disaster and flood risk.
Finally, there are Kata and Kata Noi ("Little Kata") Beaches, which are the quieter ones of the bunch, though they still have plenty of expat and tourist demand alike.
East Phuket
The beaches of Rawai and Chalong are more understated than their touristy counterparts, but the area is well known for quality cafes and restaurants and has everything you need. It's a microcosm of Phuket without the added hustle and bustle.
Rather than paying a premium for this peace and quiet, this area is less expensive than elsewhere on the island.
That said, despite being farther away from Phuket's airport and the main tourist areas on the island, you're closer to Phuket Town than you might otherwise be, which is a hub in its own right.
East Phuket is also protected from tsunamis, since the eastern side of Phuket is only about 100km away from the mainland. In contrast, much of western Phuket is directly exposed to the ocean.
North Phuket
The North of the island is closer to the airport and you're also half an hour's drive to both of the island's largest towns – Patong and Phuket Town.
This is the midpoint between both what East and South Phuket have to offer. This much becomes evident when we look at the Laguna Phuket master development on Bang Tao Beach.
Laguna Phuket includes tourist infrastructure in the form of hotels and restaurants. But it also hosts branded residential condo and villa projects like the Banyan Tree Grand Residences.
That said, given that tourists do not tend to cluster nearly as much in this area, prices are less expensive than in South-eastern Phuket. The exceptions are hotel branded projects located in the Laguna Phuket development.
In other words, you need to be careful and pick the right spot or you can easily overpay by deciding to be immediately in the action.
The Laguna Phuket development is home to many types of branded developments including beachfront hotels, golf courses, and expensive residential condos.
Should You Buy a Condo in Phuket?
We have gone on the record in the past as to why you shouldn't buy a condo in Thailand. Ten or twenty years ago, it would have been a fantastic investment.
Nowadays, in the 2020s, practically all of Thailand's growth and potential future appreciation is already priced into the market.
Furthermore, after 2030, Thailand's population is set to contract and it is likely to fall into the middle-income trap, in which it cannot develop fast enough to keep up with its demographic implosion.
Economically. Thailand should remain stagnant or perhaps even go into decline after some of its major demographic problems eventually catch up with the country.
The point is: if you purchase real estate in Phuket, you should do it because you enjoy living in Thailand and genuinely see yourself spending a lot of time here in the future.
Full disclosure: Our founder, Reid, lives in Thailand and love it. In fact, several of our team members live or have lived in Thailand at some point. But when it comes to investment, places like Cambodia and the Philippines have better demographics, higher rental yields, and rising demand driven by a strong urbanization rate, which make them far better locations to invest.
Perhaps the best advice we can offer is that you should not mix business and pleasure as an investor. Try to have a clear reason why you would like to buy in Thailand and specifically in Phuket.
If your primary goal is making investment returns, there are better options out there. Yet if you're looking to make a second-home or retire abroad, then we highly suggest purchasing a condo in Phuket!
Skip the Next Western Recession
Learn the best places to invest - and where to avoid - by downloading our free Investment Cheat Sheet.