Last updated June 14th, 2023.
Vietnam's stock market has been on investor's radars for awhile. The Southeast Asian nation's newfound popularity is partially because of Vietnam's similarities to China in the 1980s and 1990s during its earlier stages of economic growth.
Stocks and currencies all throughout Asia have seen a roller-coaster ride recently. Regardless, the Vietnam stock market ranks among Asia's best, and outperforms competing exchanges in places like Hong Kong and Thailand.
Vietnam ETFs have also soared in popularity and value over the past few years, as the nation shrugged off many of 2021s problems.
Perhaps the main problem stopping foreigners from investing in Vietnam stocks (at least individual equities) is that it's difficult.
Notoriously heavy bureaucracy along with a lack of market information have arguably held Vietnam's equity markets back more than anything.
Authorities have taken steps to fix these issues though. Banks have recently become friendlier toward foreign investors, even non-resident ones, in Vietnam while the government simplified its regulations.
Likewise, the Ho Chi Minh Stock Exchange, Vietnam's largest in terms of market cap, removed all restrictions on foreign ownership at the end of 2015. The nation's government is now in the process of privatizing a huge number of state owned business too.
The websites of many stock brokerages and government departments are able to be browsed in English. Yet their quality is generally poor and there's still lots of Vietnamese-only information.
With that said, there have been huge improvements in Vietnam's equity markets over the past decade or so. These changes are making it much easier for foreigners to invest in Vietnam.
Buying stocks is the sole viable option for some foreign investors, in fact, since you can't own freehold real estate in Vietnam.
Vietnam is unique among all other countries in Southeast Asia because they host not one, but two major stock exchanges. The Ho Chi Minh Stock Exchange (HOSE) operates alongside the smaller Hanoi Stock Exchange (HNX).
However, Vietnam recently unveiled plans to consolidate and reorganize their exchanges. Starting in 2023, all stocks listed in Hanoi will transfer to the HOSE which will serve as Vietnam's sole stock exchange.
The HNX will nonetheless continue operating as Vietnam's main bond exchange, and will additionally offer funds, derivatives, and other investment options.
Once the merger finishes, you will be able to purchase over 700 different stocks on the Ho Chi Minh City Stock Exchange. That's a massive amount of choice for a frontier market. 
Stock Exchanges in Vietnam
Vietnam's largest stock exchange
Market capitalization of around US$225 billion
Total listed stocks: 385, with 29 bonds and 7 ETFs listed as well
Trading hours: 9AM to 3PM with a break from 11:30AM to 1PM
Will serve as Vietnam's sole stock exchange from 2023 onward
Hanoi Stock Exchange (HNX)
Vietnam's second biggest stock exchange, and its main bond exchange.
Market capitalization of around US$50 billion
Currently holds about US$200 million worth of bonds.
Trading hours: 9AM to 3PM with a break from 11:30AM to 1PM
Will serve as Vietnam's main bond exchange from 2023 onward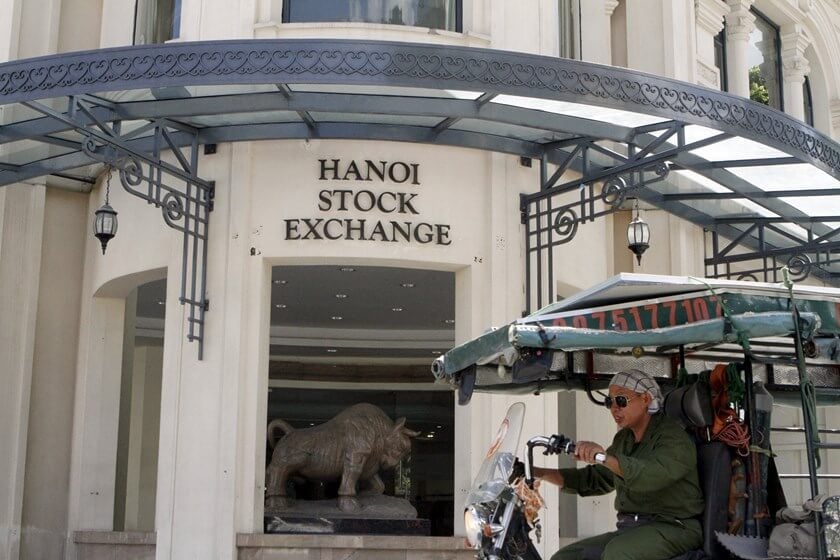 Despite Vietnam's status as frontier market, its two large exchanges offer a high variery of options. You certainly have more investment choices compared to a countries in Asia which at a similar level of development to Vietnam's economy. 
Invest in the Vietnam Stock Market
Foreigners can invest in both of Vietnam's two major exchanges. While there are several limitations regarding foreign majority holdings, this shouldn't become a factor for all except the wealthiest of personal or institutional investors.
Find a Stock Brokerage in Vietnam
Getting a brokerage account is a requirement for you to start investing in Vietnam stocks. With language barriers still a problem in this country, its usually better to open an account at one of Vietnam's largest brokerage firms.
Vietnam's biggest stock brokers are likely to have someone on hand who can speak English if you visit a branch in a main business district. Such firms are generally more competent when compared to smaller ones as well.
Below are the five largest brokerage companies in Vietnam by market share:
Saigon Securities Incorporation
Ho Chi Minh City Securities Corporation
Viet Capital Securities Joint Stock Company
Vndirect Securities Corporation
ACB Securities Company Ltd.
Open a Vietnam Brokerage Account
Once you have selected a brokerage firm, they will ask for a number of documents to be filled out. The exact types vary based on the brokerage but generally include:
Account Opening Application
Power of Attorney
Securities Trading Code Application
Copy of Your Passport
For US Citizens, Documentation for FATCA Compliance
Open a Vietnam Bank Account
The stock brokerage company should also be able to help you open a bank account in Vietnam with one of their partners in order to hold funds and settle global transactions.
It requires filling out another form or two (or three). But during the account opening process, the brokerage can reuse many of the same documents from the last step.
Apply for a Securities Trading Code
With everything else finished, the brokerage will apply for your securities trading code. This is essentially an ID for investors and a requirement for trading stocks in Vietnam.
That will of course require a notarized passport copy, but you should have already submitted that for Steps 2 and 3.
After getting a securities trading code, you're officially done! Just transfer money to your new brokerage account, start trading, and join in on Vietnam's economic growth.
Skip the Next Western Recession
Learn the best places to invest - and where to avoid - by downloading our free Investment Cheat Sheet.