Last updated July 12th, 2023.
As the world's third largest economy, Japan is one of the main engines of growth engines in Asia. Buying property in Japan means you're investing in one of the most developed and heavily-urbanized nations on the planet.
Japan isn't currently in the brightest spot though, economically-speaking. GDP growth has remained in the sub-3% range for practically all of past three decades. Furthermore, a rapidly declining population will keep pressure on Japan's existing debt woes.
Public debt in Japan now exceeds 200% of GDP. Americans complain about "20 trillion dollars", but proportionately speaking, Japan's debt issues are much worse.
Yet despite its longstanding debt problems, depopulation, and a generally stagnant economy, Japan is reinventing itself like it always has.
Automation, though it became a mainstream discussion topic in the western world fairly recently, has been extremely common in Japan since the 1980s. Vending machines are on every street corner while remotely ordering food at restaurants is standard.
Japanese factories are also pioneers in robotics and automation, needless to say. Labor efficiency is higher here than in any other country on earth.
Meanwhile, foreigners are visiting and purchasing property in Japan more than ever. The nation was once infamously hard to live in as an expat. But they've since opened up to foreign residents as Japan's long-term demographic problems intensify.
Japan is now the second most popular country in Asia to buy property as a foreigner, ranking after Thailand.
In particular, wealthy Chinese buyers have become prominent investors in Tokyo's real estate market as of late.
You can partially thank a tourism boom for rising demand. Of course, people are more likely to buy property overseas after they have already visited as a tourist.
Japan's simpler visa laws, hosting of major events including the (albeit postponed) 2020 Olympics, combined with rising acceptance of globalization will help them adapt to the 21st century. Even if Japan won't truly thrive during the next 100 years either.
Rest assured, however: Japan will continue its role as one of the world's top cultural, economic, and political centers throughout the foreseeable future.
Property in Japan remains a relatively stable and safe investment…. if done correctly. Just don't expect appreciation or rental yields above 7% like you can get in Cambodia or the Philippines.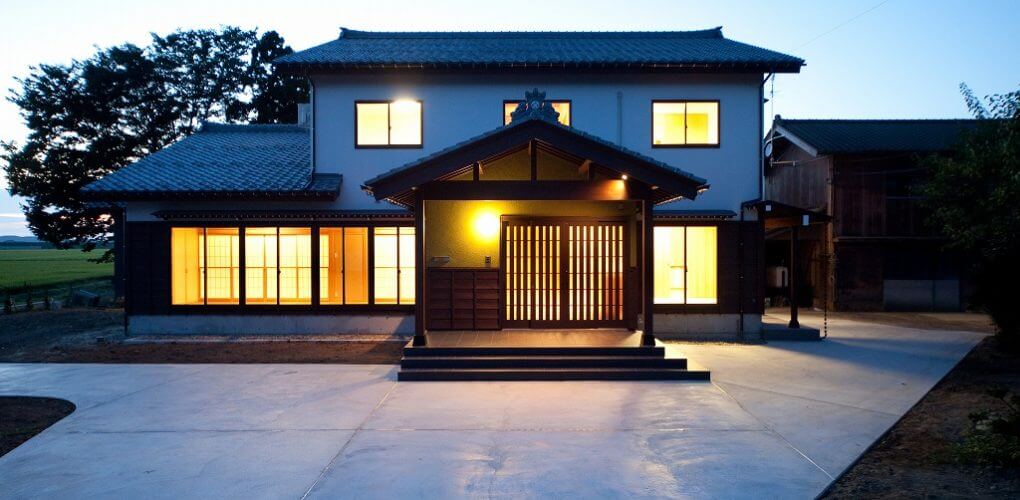 Japan is among a select few countries in Asia where foreigners can own land and houses. With that said, purchasing and maintaining a house in Japan as a foreigner is highly beauracratic – especially if you don't live here full time.
Can Foreigners Invest in Japan Real Estate?
Japan not only allows foreigners to buy freehold property, they also permit land ownership. You'll have the same rights as Japanese citizens when it comes to owning any type of real estate – whether it's a house in Tokyo or an apartment in Osaka.
That's a rare attribute in Asian markets. Most countries in the region only let foreigners buy condo units. In fact, most places won't let you truly own real estate at all.
China and Vietnam, for example, don't allow anything more than a long-term lease on all kinds of properties.
Because of this, Japan is one of the safest countries in Asia to buy real estate as a foreigner – at least from a legal point of view. There's practically zero distinction between foreigners and Japanese citizens when it comes to owning any type of property.
If you need to be careful about anything, it's the real estate agents in Japan (see further below). Not the government or anything related to land-title security.
How Much Are Japan Property Taxes?
Real estate taxes in Japan are moderate if looked at within a global context. Although keep in mind that some countries in Asia do not have property taxes at all. Consider Thailand, Cambodia, or even Malaysia instead of Japan if you want lower carrying costs.
Putting that topic aside, anyone who owns real estate in Japan must pay annual taxes based on the value of their asset. You'll pay a flat 1.4% property tax, along with a 0.3% "city planning tax", which equals a 1.7% yearly tax in total.
1.7% annually is a permanent and fairly substantial carrying cost. It's worth considering before you buy property in Japan, especially if you aren't living here full-time.
Yearly taxes are payable on a property's government-appraised value. A few deductions might also be available, yet they tend to be minor.
If you're renting out your property in Japan, then you must also pay rental income tax. The amount of rental tax you'll pay depends on whether you reside in Japan or not.
Calculations for rental income are simple if you aren't living in Japan. Non-residents, whether foreign nationals or Japanese citizens, are taxed a flat 15% rate on their rental income.
Japanese residents pay far less. If you're living here, rental income tax is based on a ladder system. Either way, rates are significantly lower – only 3.4% at minimum and 5.88% at the highest bracket.
Best Places to Invest in Japan
Japan is a large country with over 120 million inhabitants. As such, there are hundreds of different places you can buy real estate in Japan. These range from megacities like Tokyo and Osaka, to mid-size cities of a few hundred thousand people, to rural villages.
For the purposes of this guide, we'll be covering Japan's four largest metropolitan areas: Tokyo, Osaka, Nagoya, and Sapporo. Smaller cities including Fukuoka or Naha will not be covered at all – and definitely not rural Japan either.
Keep in mind that Japan's weak demographics will inevitably put pressure on real estate demand. It will take many decades for the nation's falling population to impact global business centers such as Tokyo and Osaka. Yet smaller cities are already feeling the negative impact.
Because of all this, I can't suggest buying property outside of Japan's major cities in good faith. You would almost surely suffer from low occupancy rates and stagnant prices due to the nation's rapid and inevitable population decline.
Real estate located in each of the below cities should see some amount of appreciation during the 2020s. Yet we cannot make recommendations beyond that timeframe, or in any of Japan's smaller towns/cities.
Tokyo
With over 30 million people, Tokyo is the world's largest metropolitan area by far. It would therefore make sense that Tokyo has a greater number of housing options than anywhere else on the planet.
Quite frankly, covering every Tokyo neighborhood in a single article wouldn't be possible. Our guide is about buying property in Japan, not just Tokyo, and you could fill multiple books with information on a city of Tokyo's scale.
If we wrote everything we could about Tokyo, there simply would not be any time left to cover Japan's other real estate markets.
You will find an overview of Tokyo divided into four sections below. Shibuya, Minato, and Chiyoda are historically considered the city's central wards. Together, they comprise central Tokyo which is the first section in our guide.
Likewise, Tokyo's general east, west, and south wards get a section. West Tokyo consists of Nakano and its surrounding areas, while the eastern wards include Chuo and beyond. The neighborhoods south of Chiyoda and Shibuya are defined as Tokyo's southern wards.
Yokohama is also included here, despite technically being its own city and not part of Tokyo proper. It is, after all, mostly swallowed up by its larger neighbor's dense urban sprawl. Yokohama is closer to Tokyo's CBD than Narita Airport is!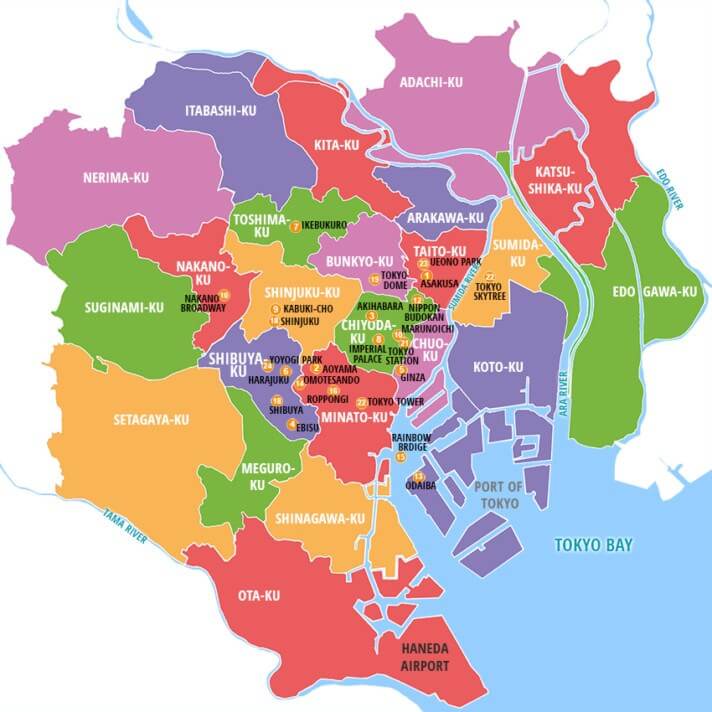 Here's a map of Tokyo and its 23 special wards. It's worth noting that Tokyo's metropolitan area is noticeably larger than Tokyo proper. Nine million people live in the city of Tokyo, whereas roughly 32 million live in Tokyo's urbanized metro area.
Shibuya / Minato / Chiyoda (Center Wards)
Property values in Tokyo's three central wards remain far higher than anywhere else in country. And the market dynamics here are completely different than in the rest of the city.
Here's the good news about owning property right in the center of Tokyo: whether it's commercial, residential or otherwise, you probably won't suffer from any lack of demand.
Japan's overall population decline is a non-issue for real estate in prime, sought-after neighborhoods with limited supply. Places like Shibuya and Chiyoda, the latter which includes Roppongi Hills (the "Beverly Hills" of Tokyo) won't ever have a shortage of tenants.
The bad news? Rental yields for luxury property in central Tokyo are low, and you'll pay well above US$10,000 per square meter.
I would argue that buying property in Tokyo's central business district, while maybe a nice "trophy asset", is absolutely not an optimal investment. You might consider looking toward Tokyo's outer wards, which are often merely a ten-minute commute to the city center.
Nakano / Suginami / Western Wards
Tokyo's western wards are a good place to purchase real estate if you're seeking a combo of reasonable prices and a central location.
Nakano, for example, is a prime area by any definition. It's only around 10 minutes to Shinjuku via subway. Nonetheless, property values in Nakano are about half the price of what you'll pay in Tokyo's inner wards.
Values are even cheaper in neighborhoods that are further outside of Tokyo's central core, including Kokubunji, Musashino, and Akishima.
Those areas are essentially commuter towns for inner Tokyo, letting workers trade convenience for affordability. Expect to pay about US$5,000 for property here.
Nonetheless, you're running a long-term risk buying property further outside of central Tokyo from an investor's perspective. If and when population decline hits Japan's larger cities, occupancy rates in their "bedroom communities" will suffer first.
Chuo / Taito / Eastern Wards
Technically, Chuo and Taito aren't included among Tokyo's three central wards. Yet you could easily argue that these two districts are equally as convenient when compared to anywhere in Shinjuku or Shibuya.
Chuo and Taito are especially great areas if you are making frequent trips to-and-from Tokyo-Narita Airport. The Keisei Skyliner, your quickest method of transport between central Tokyo and its main airport, departs from Ueno Station.
Getting out of Japan is easier from Ueno Station, located in Taito Ward, than anywhere else near the city center. And that includes competing transit hubs like Tokyo Station.
Edogawa Ward, albeit slightly further away, is becoming popular among expats too. It's about a 20 minute commute to central Tokyo. Property values in Edogawa remain much lower compared to Tokyo's CBD though.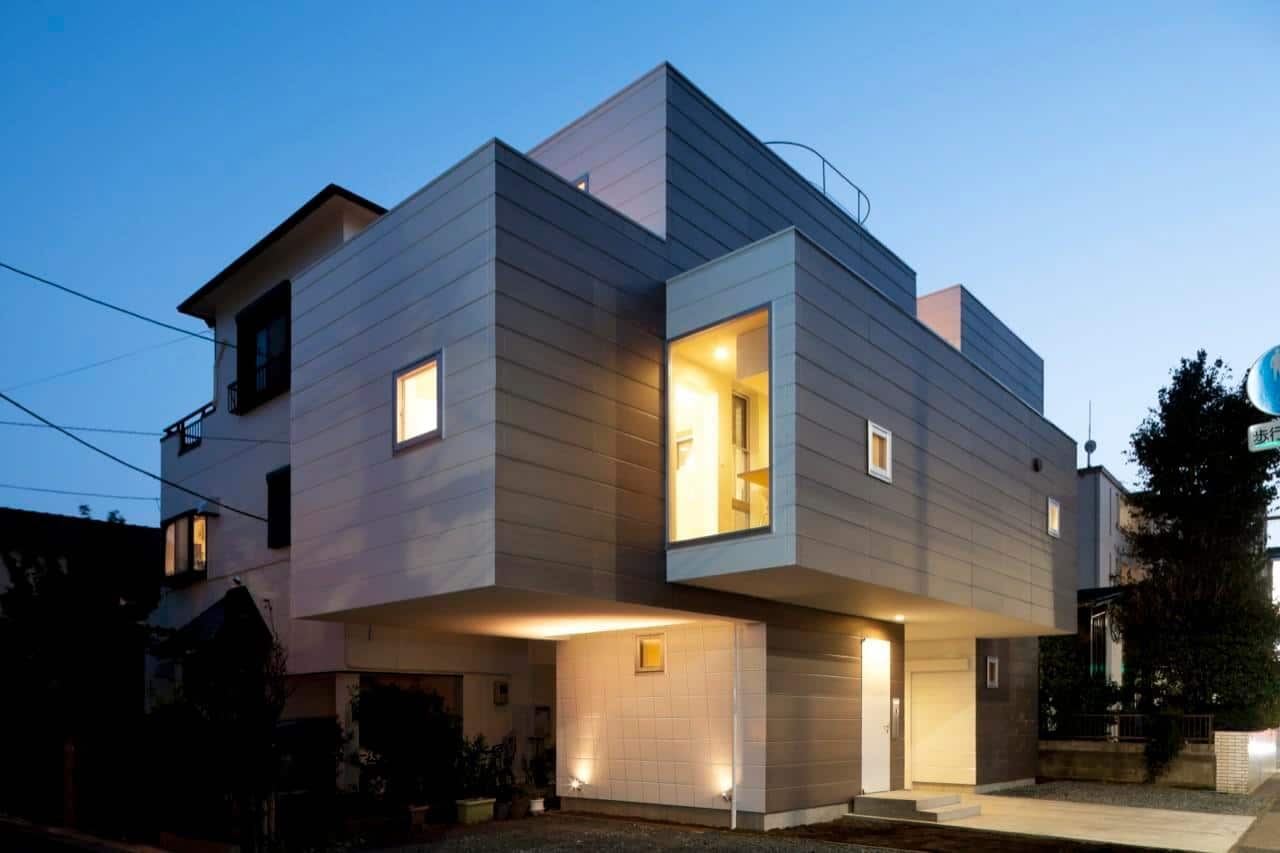 You can purchase an entire house in Tokyo's Edogawa Ward for less than a small apartment in Shinjuku. Real estate in the suburbs is noticeably cheaper and more readily-available than in downtown Tokyo.
Shinagawa / Ota / Southern Wards
The south wards are yet another part of the Tokyo metro with an attractive mix of accessibility and affordability. Much like eastern and western Tokyo, you can buy real estate here for around half the price you would pay in a central ward such as Shibuya or Chiyoda.
It's also worth noting that Tokyo's southern wards are the most convenient places to live if you're frequently traveling and out of Japan. That's because you're only a quick drive or metro ride away from Tokyo-Haneda Airport.
Haneda Airport, the metro area's second largest, is noticeably closer to the city center than Narita. Haneda is widely considered among locals as Tokyo's easiest airport to leave the country from.
Foreigners who are buying property in Japan should consider south Tokyo's accessibility to Haneda Airport, along with its comparatively lower property values.
Yokohama
While Yokohama was assimilated into the "greater Tokyo urban area" decades ago, Yokohama is by all means its own city. It's Japan's "true" second largest metro area rather than Osaka, in fact.
Real estate prices in Yokohama are considerably less than in Tokyo proper. In Yokohama, land values hover around ¥250,000 (~$2,500) per square meter on average. That's compared to above ¥500,000 (~$5,000) in many Tokyo suburbs.
Let's face it: Yokohama won't ever become as expensive or desirable compared to Tokyo. Likewise, imminent population decline will affect real estate in Japan's suburbs, villages, and second-tier cities before it impacts central Tokyo or Osaka.
Regardless, you can still make money in the Yokohama property market throughout the 2020s. And the city enjoys plenty of desirable neighborhoods with strong appreciation potential.
Yokohama is especially seeing an influx of Chinese investment right now. Tokyo itself doesn't even have a Chinatown and real estate prices remain double that By comparison, Yokohama is cheap and easier to make friends if you're Chinese.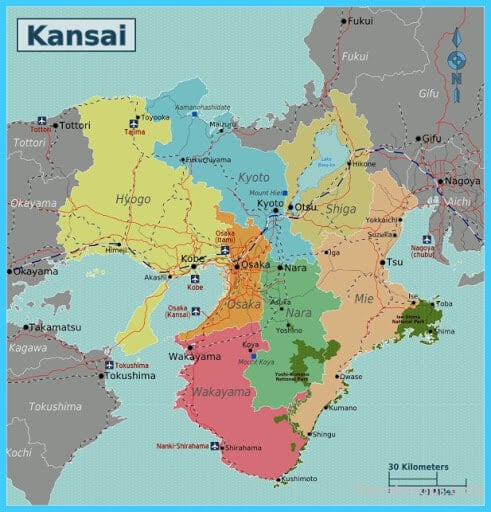 Kansai region includes, among other places, three of Japan's most economically prominent prefectures: Osaka, Kobe, and Kyoto.
Osaka / Kobe
Japan's second largest urban zone, and the Kansei region's core, is made up of of three cities: Osaka, Kobe, and Kyoto. Together, more than 19 million people live in this metropolitan area that locals call "Keihanshin".
You might notice, in our analysis of Japan, that we aren't too bullish on the nation's property market as a whole. Three decades of weak GDP growth and rapid depopulation, combined with geopolitical and natural disaster risks are our primary concerns.
However, if you're already set on investing in Japanese property, the Osaka metro area is probably your best bet outside of Tokyo. Rental demand in these places won't disappear anytime soon like it will in Japan's medium and small-sized cities.
As is the case across the rest of the nation, you should focus on a prime city center neighborhood if buying real estate in the Osaka / Kobe area. Limiting your exposure to Japan's inevitable population decline is a good idea when you're investing anywhere in the country.
Kyoto
While Kyoto is the smallest out of the Keihanshin area's three main cities, its population of 3 million isn't insignificant by any means And of course, Kyoto is part of a larger metro with almost 20 million people. You're 30 minutes away from Osaka and Kobe via train.
If you're set on investing in Kyoto property, it may be ideal city for an Airbnb rental business. A vast majority of job opportunities in the Keihanshin region are nearer to Osaka.
Therefore, you're far more likely to find short-term tourists as tenants than longer-term businessmen or retirees.
Granted, Airbnb rental businesses in Japan have become a lot more difficult to set up since 2018. The government now requires all short-term vacation rentals to obtain a hotel license. It's not an impossible process to go through as a foreigner, but surely a bureaucratic one.
Putting all that aside (Airbnb investments are an entirely separate topic), Kyoto is certainly one of the most unique cities in Japan. You won't find anywhere else quite like it.
Many people, Japanese and foreigner alike, feel a special affinity towards Kyoto and its quaint remnants of imperial Japan.
You might consider owning real estate in Kyoto if you're drawn by the former capital's charm. Otherwise, much of Kansei's investment potential lies outside Kyoto in nearby Osaka and Kobe instead.
Sapporo
Japan's northernmost big city, Sapporo is separated from the island of Honshu by a 15km strait of water. Granted, the ocean isn't stopping a Shinkansen line to Sapporo from being built.
This continuation of Japan's main Shinkansen line is currently under construction and should finish up by 2030. By the end of this decade, you'll finally be able to travel from Sapporo all the way down to Tokyo, Kyoto, and most of the rest of Japan.
We think this can boost prices in Sapporo (and indeed, the whole island of Hokkaido) over the short-to-midterm. Granted, population decline combined falling real estate demand is a huge concern in Japan's second-tier cities in the longer-term.
Indeed, Hokkaido's population is already plummeting. And at the fastest pace out of Japan's four major islands.
There are a few niche real estate opportunities in Sapporo, especially in the tourist sector as Chinese visitors become an increasingly important part of the local economy. Otherwise, you are surely much better off investing in either Tokyo or Osaka.
Nagoya
Nagoya, though just a mid-size city of 3 million people in and of itself, is at the center of Japan's third largest metro area. The so-named Chukyo region consists of Nagoya, along with Komaki, Tokai, and a few other cities, adding up to around 10 million inhabitants.
Unfortunately, Nagoya and its metro area suffers from the same problems as Hokkaido – although perhaps not quite to the northern Japanese island's extent. Population decline is well underway in Nagoya.
The worst part about investing in Nagoya's property market? You'll pay roughly the same price per square meter compared to, for example, Osaka which enjoys far greater investment potential.
We therefore cannot suggest buying real estate in Nagoya for investment purposes. The city doesn't have any long-term growth drivers like Tokyo or Osaka… and doesn't have Sapporo's strong tourism appeal either.
Hiring Real Estate Agents in Japan
If you're a local, dealing with realtors in Japan is rather simple. Property agents are ubiquitous across the country. Just step into a realtor office located in the area where you want to buy/rent, and begin your search from there.
Things change if you're a foreigner though, especially if you don't speak Japanese. Not only will the language barrier almost certainly cause problems, but you're also likely to face discrimination.
Definitely bring a local friend, or hire a lawyer, if you are ill-equipped to navigate Japan's real estate market by yourself. It will ultimately save you thousands of dollars, even if hiring a guide might bruise some people's ego.
Needless to say, you'll face discrimination almost anywhere in the world on some level. It's rather unavoidable, and if you can't handle it, you're probably better off staying at home and not doing business abroad.
With that said, I've purchased and rented properties everywhere from Bangkok, to Tbilisi, to Phnom Penh. Japan is the only country where I've personally encountered tenants and realtors "not wanting to deal with non-Japanese".
You'll find plenty of English-speaking realtors online, yet most of them are even worse. They won't refuse your business but may instead rip you off with overpriced nonsense.
How do you find a good realtor in Japan as a foreigner, then? Your two best bets are either learning Japanese or asking a trusted friend for help.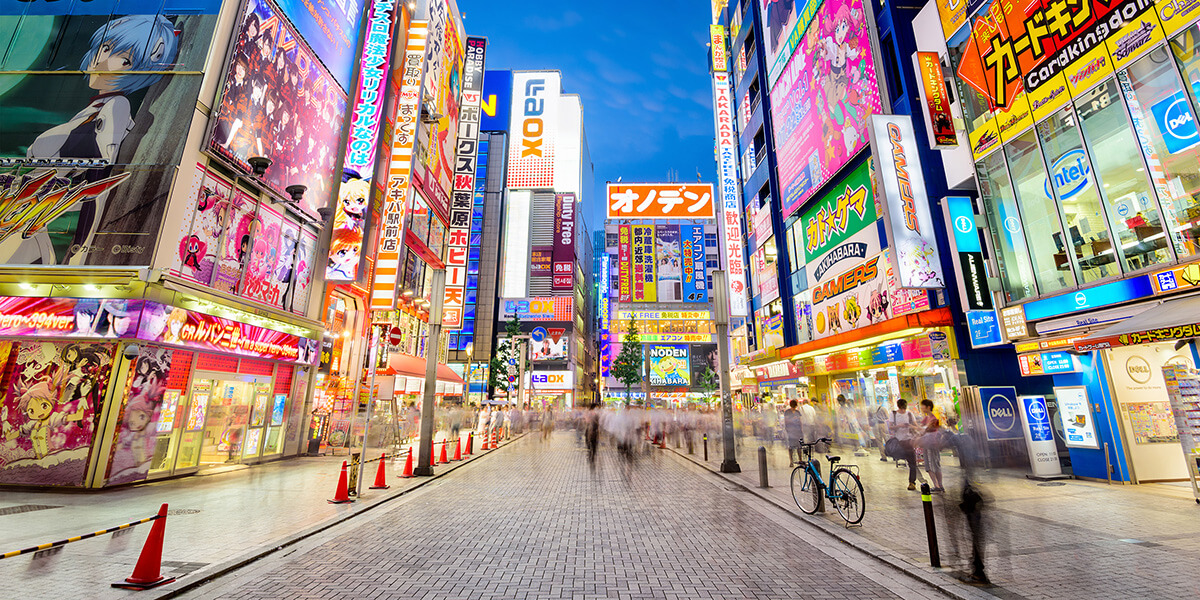 While Japan doesn't rank among Asia's best places to invest, there's nowhere else quite like it. That's possibly enough reason for to purchase property and live here, depending on your own personal goals.
Is Buying Property in Japan a Good Investment?
Japan has its share of problems. A stagnant GDP growth rate and numerous geopolitical issues will weigh heavily on the nation during the 21st century.
Of course, and as mentioned before, Japan is going through a long-term demographic crisis as well. This trend will continue for another generation, at the very minimum, and will impact the Japanese real estate market more than just about anything else.
So, is buying property in Japan a good investment? It depends entirely on where you purchase and how large of an investor you are.
If you're buying real estate in one of Tokyo's central wards, then population decline won't have too much of an effect on you. Plenty of expats and locals alike will continue wanting to live in Tokyo for work opportunities in the foreseeable future.
On the other hand, owning land in Hokkaido is much riskier even if the minimum entry price is also lower. You might be tempted to "own part of Japan" for under $100k, even in a second-tier city such as Hiroshima or Wakayama.
Be aware that it's probably a value-trap with limited appreciation potential, few prospective tenants, and no willing purchasers if you ever need to sell your asset though.
Lots of foreigners also enjoy Japanese culture and, investment potential aside, want to own property so that they can easily spend time here. Don't let us tell you where to buy property if your main goal is merely living in Japan long-term because you like the country.
Just understand, in such a case, you would mostly buying a place to live in Japan… not making an investment. You can call it a second home, lifestyle purchase, or a pied-à-terre – but not a superior method of achieving high returns.
This is especially true when comparing Japan to nearby countries in Asia. You can make triple Japan's rental yields in nearby property markets.
Meanwhile, in frontier property markets like Cambodia and Vietnam, capital appreciation prospects are driven by natural demographic factors. Population growth and urbanization are driving up demand in places like these – the complete opposite of Japan.
Your opportunity costs should always be a major consideration when investing offshore. Perhaps investing in Japan isn't the greatest idea after all.
Skip the Next Western Recession
Learn the best places to invest - and where to avoid - by downloading our free Investment Cheat Sheet.