The Qatari banking system is one of the world's most advanced and highly developed. With the Gulf state's continuously growing wealth, more people want to live and invest in Qatar than ever before.
Yet foreign expats sometimes miss crucial details when starting their new life in Qatar. Often, people simply wander into the first bank they see, or open an account at one suggested by their employer.
Learning about Qatar's top banks will help ensure that your money is kept safe. You'll also see which ones have the best customer service, just to make sure you aren't disappointed by long lines and poor online functionality.
In this article, we cover the 11 best banks in Qatar. The ranking criteria is based on service quality, customer satisfaction, financial stability, and several other factors.
We'll also discuss the features and services provided by each bank so that you can choose one that fits your needs. Without further delay, here's our list of the top banks in Qatar.
Qatar National Bank
Qatar National Bank, or QNB Group, is the largest financial institution in Qatar and one of the largest banks in the Middle East.
Established in 1964, QNB has grown to become a major player in the region and beyond, offering a wide range of financial services and products to its customers.
QNB Group has a presence across 30 countries, with more than 500 branches worldwide. It provides retail and corporate banking, treasury services, and wealth management.
A few of QNB's strengths include a strong financial base, well-established relationships with customers, advanced technology, an extensive network of branches across multiple countries, and an experienced management team.
QNB Group has also been able to take advantage of recent technological advancements by investing in digital banking solutions such as mobile banking apps.
To stay ahead of competitors, QNB should focus on improving customer service quality and developing innovative products that meet customer needs.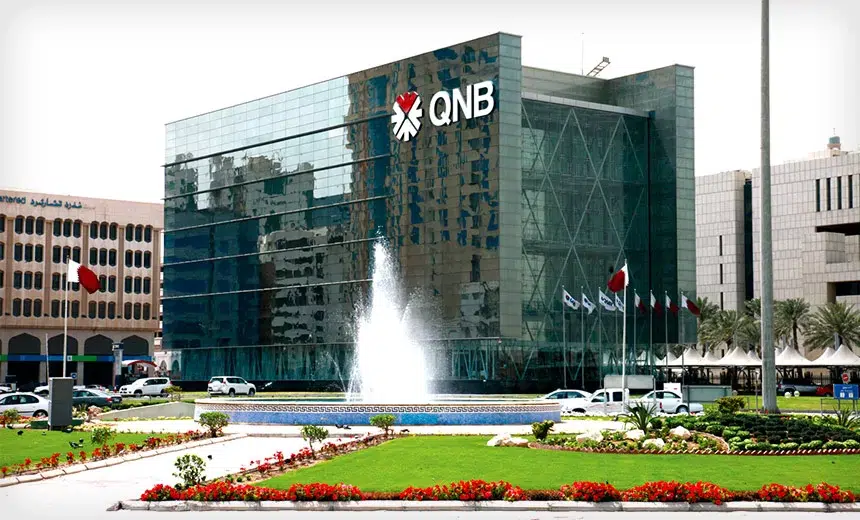 QNB Group is a public bank and the country's biggest. As such, they aren't merely responsible for customer deposits – they're largely responsible for Qatar's whole economy. 
Commercial Bank of Qatar
Established back in 1975, the Commercial Bank of Qatar (CBQ) is the largest private bank in Qatar. CBQ has a strong presence throughout the country with more than 50 branches and over 200 ATMs.
They provide all the standard personal and business services that you'd expect. Additionally, CBQ offers Islamic Banking packages, investments, insurance policies, and foreign exchange services to its Muslim clients.
CBQ is one of the leading businesses in the country. However, there are some weaknesses that have led to a decline in market share. These include a lack of digital banking services, inadequate customer service, and limited investment options.
Likewise, CBQ arguably hasn't kept up with rapid changes in technology and lags several of its competitors in that regard.
Qatar Islamic Bank
Qatar Islamic Bank (QIB) is a leading financial institution in the Middle East. Founded in 1982, QIB has grown to become one of the largest and most successful Islamic banks in the world.
QIB has a strong presence in the region with over 400 branches in Qatar and nearby countries such as Bahrain, Kuwait, Oman, Saudi Arabia, UAE and Pakistan. They also provide Sharia-compliant investment solutions to meet customer needs.
A few of the bank's strengths include an extensive network of branches across the region as well as its strong customer base. QIB also has a relatively strong capital base to help it manage risk effectively.
On the other hand, QIB's weaknesses include its limited presence outside of Qatar which limits its ability to expand into new markets. Furthermore, a reliance on oil revenues may pose a risk if oil prices fall significantly in the future.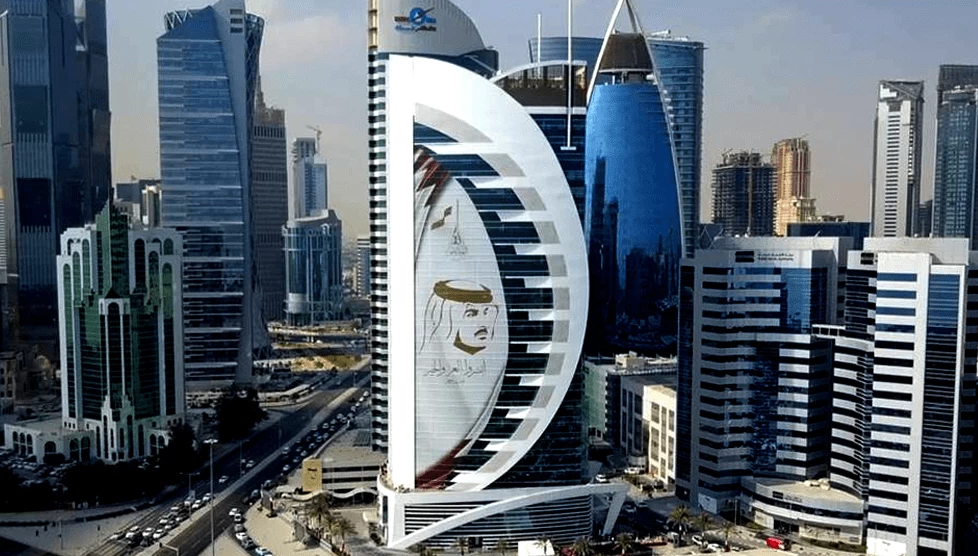 The headquarters of Doha Bank is one of the most recognizable skyscrapers in the city.
Doha Bank
A leading commercial bank in Qatar, Doha Bank provides financial services to individual and corporate customers. Established in 1979, it is one of the oldest banks in the country and has been listed on the Qatar Stock Exchange since 1995.
Doha Bank has gained recognition for its strong financial performance and customer service, and has become a trusted name for many individuals and businesses seeking financial solutions.
The bank has a strong capital base which enables it to invest in new projects and technologies and is also well-known for its excellent customer service.
Additionally, Doha Bank offers competitive interest rates on deposits and loans, making it an attractive option for customers who are looking for banking services in Qatar.
Qatar International Islamic Bank
Qatar International Islamic Bank (QIIB) is a leading financial institution in the Middle East. It's one of the largest banks in Qatar with a strong presence across the region and beyond. The bank focuses on providing services that meet customers' needs while adhering to Islamic principles.
QIIB provides its customers with an array of digital banking solutions such as online banking, mobile banking, and e-commerce payment solutions. It also offers specialized services for SMEs and entrepreneurs.
The bank's strengths include a wide range of products and services, competitive rates for deposits and loans, and excellent customer service with 24/7 support available online or through its branches across the country.
QIIB isn't without its weaknesses though. These include a rather heavy reliance on traditional banking practices and lack of innovation.
Ahlibank
Over the years, Ahlibank has become a top bank in Qatar and one of the leading players in the nation's financial sector.
Ahlibank stands out from its competitors due to its competitive pricing and a variety of rewards. Such programs give customers an incentive for their loyalty and encourage them to use more of its services.
With that said, they have certain weaknesses as well. Ahlibank's reliance on traditional banking methods, combined with strict competition from both regional and global banks, remains a risk.
To remain competitive, Ahlibank should continue its investment in new technologies.
HSBC Bank (Middle East)
The first international firm on our list, HSBC is Europe's largest bank. Ranked among the most influential companies in the world, they have 40 million customers globally and over $3 trillion dollars' worth of assets under management.
Headquartered in the UK and with operations in about 70 countries, HSBC has done business in the Middle East ever since 1964. They've expanded their services in the Gulf region alongside the region's booming economic growth.
Specifically in Qatar, HSBC offers a full package of services including personal banking, trade financing, and wealth management.
One of the main factors that helps HSBC stand out from its competitors in Qatar is integration with other branches worldwide. They provide a global account overview if you're banking in multiple countries, and staff can speak with each between its different international branches.
However, this connectivity isn't always seamless. While HSBC operates in lots of countries, they don't allocate their resources 100% evenly. The efficiency of using them as a "global bank" will thus vary based on the specific branch you're dealing with.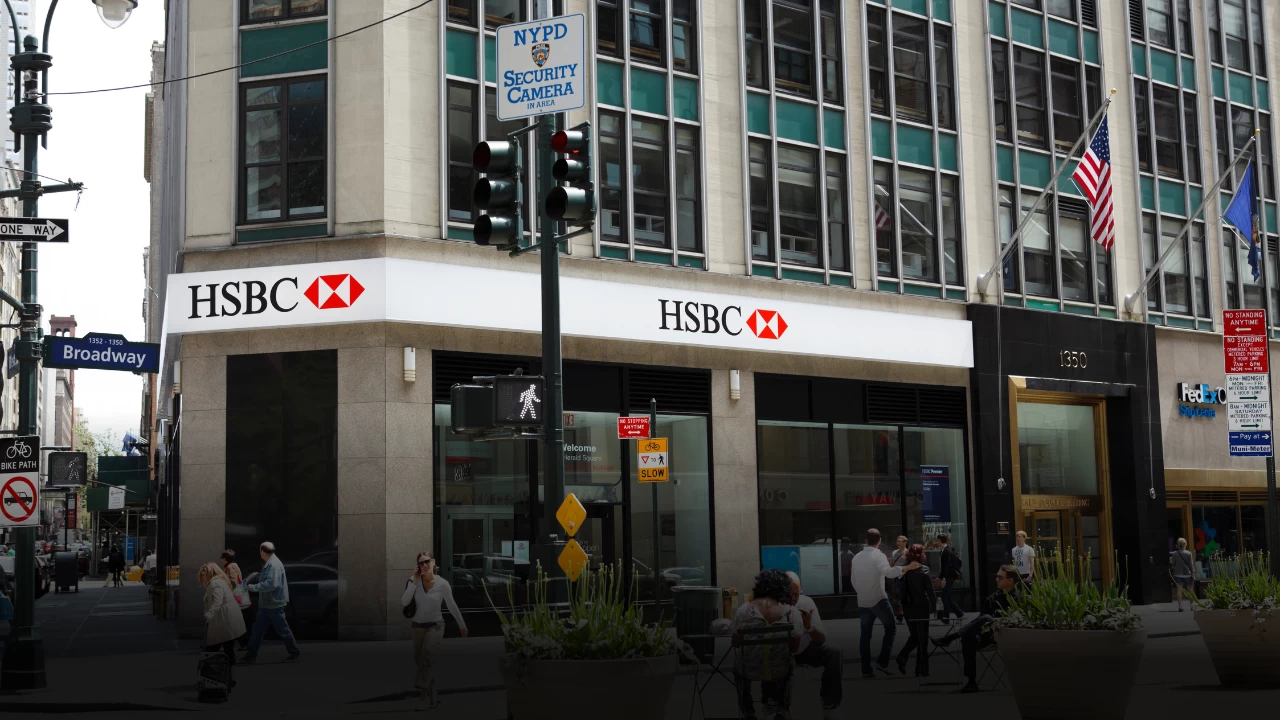 You'll find branches of HSBC in every country from Armenia to Qatar. Huge multinational banks such as HSBC and Standard Chartered are omnipresent around the world, but not always consistent.
Arab Bank
Founded back in 1930, Arab Bank is a multinational firm based in Jordan. It has grown to become one of the largest companies in the Gulf region with more than 500 branches and offices located in 25 countries, including Qatar.
Specifically in Qatar, Arab Bank offers a complete range of services including deposits, loans, investments, and foreign exchange. They also give expats a few notable perks like free ATM withdrawals and discounts on products.
With its commitment to quality service, Arab Bank in Qatar has quickly become the preferred institution within a select group of locals and foreigners. Especially those doing business across the region.
However, there are still some weaknesses that should be taken into. Gulf Bank receives the vast majority of its financing from abroad, and as such, loan rates are on the higher side compared to local Qatari banks.
Masraf Al Rayan Bank
Masraf Al Rayan Bank (MAR) is one of the leading banks in Qatar, and since it was established in 2006, has become one of the country's most trusted Islamic banks.
Al Rayan's strengths include its customer-centric approach, secure digital channels, and strong capital base. They also strive to promote financial inclusion through microfinance and financial literacy programs.
However, MAR does face intense competition from more established banks in the region such as Qatar National Bank and Doha Bank. Furthermore, Al Rayan Bank's financial performance has been affected by the economic crisis in recent years.
Standard Chartered Bank
The second British multinational firm our list, Standard Chartered is among the oldest foreign banks in Qatar and has operated here since the early 1960s.
Standard Chartered Bank has a very strong presence both locally and worldwide, perhaps second only to HSBC on this list.
Like with other multinational banks, SCB's strengths include a well-established brand, extensive network of branches and ATMs globally, as well as a comprehensive suite of digital solutions. You'll also enjoy connectivity between its different international branches.
Yet while Standard Chartered Bank remains one of the largest financial institutions on the planet, a major weakness is poor customer service. It's an unfortunate trend, but seems rather consistent with SCB worldwide – not just solely in Qatar or the Gulf region.
Compared to local banks in Qatar, a lack of competitive interest rates for loans and deposits are also an issue.
Dukhan Bank
Dukhan Bank is the first Islamic Bank in Qatar and is one of its leading institutions. The bank offers a wide range of products and services including personal banking, investment banking, real estate services, and more.
Customers enjoy competitive interest rates on savings accounts and loans, as well as free ATM withdrawals and discounts on foreign currency exchange transactions.
Furthermore, Dukhan Bank has partnered with Barwa Bank to give customers access to approximately 200 branches across Qatar. 
A number of strengths help make Dukhan Bank a leading player in its industry. The bank's strong financial position, customer-centric approach, and cutting-edge technology are all key factors that contribute to its success.
Despite its size and strength, Dukhan has some weaknesses to be addressed, including higher-than-average fees and relatively slow processing times.