Last updated April 30th, 2023.
China is Asia's quintessential success story. Since the 1980s, the country has transformed into an economic powerhouse. And Chinese property developers have certainly helped fuel nation's rapid change.
The Chinese construction boom has attracted investors from around the world. Thus, foreign buyers seeking Chinese real estate will find an abundance of properties for sale throughout the country.
Yet as China's real estate sector expanded, poor-quality developers have flourished. Structural problems and construction delays are unfortunately common in this market. Finding a high-quality developer is critical when investing in Chinese property.
Before diving in, let's address one issue – we believe China's real estate market is currently overvalued as a whole.
Chinese real estate isn't very profitable and buying here entails plenty of bureaucracy. They also use a leasehold ownership system, which makes any property a depreciating asset on a countdown to eventually being worth nothing at all.
On top of that, if you're a foreign investor, you must live and work in China for at least a year before you can purchase anything.
Foreign real estate buyers in China truly face particularly onerous restrictions. Your limits will vary based on the city you're buying in, but it's especially difficult to own property as a non-Chinese national in major urban areas like Beijing and Shanghai.
In fact, the government has even barred foreigners from renting out their residences to tenants. Non-Chinese citizens will find stronger potential with fewer opportunity costs in Southeast Asia's emerging and frontier markets like Cambodia or Vietnam.
However, China's real estate market can be a solid investment if you plan to live there. Buying a condo can save you the trouble of apartment hunting and haggling with landlords. 
China is, of course, a huge country with thousands of places to invest in. There's surely an opportunity somewhere – even if things are difficult at the moment. If you make a smart investment in an up-and-coming area, then you may be able to turn a profit.
Given the risks of investing in Chinese property, you should take special care to find a reputable developer. You should buy from a company that's financially sound with a strong track record of completed projects and minimal incidents.
The following companies are worth mentioning as the best, (or at the very least largest!) property developers in China.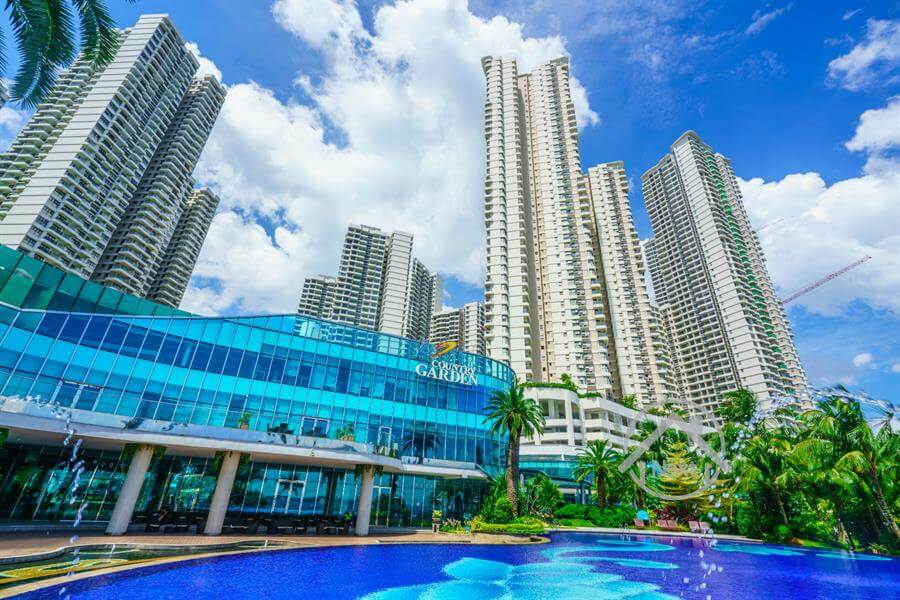 Country Garden, one of China's biggest property developers, builds condos all over the world. The one pictured above is their Danga Bay project in Malaysia.
Country Garden
Ever since its founding in 1992, Country Garden has become one of China's best-known developers. This Fortune 500 firm operates in property management and development with subsidiaries in construction and hospitality. 
They build condo projects and housing developments internationally in not only China, but Australia, Malaysia, and Indonesia, among other places.
Country Garden has developed a variety of residential, commercial, industrial, and hotel projects in China and internationally. In fact, it has sold over 2 million residential units across China.
Given the company's massive portfolio, buyers have a plethora of options in terms of both housing type and price.
The firm is best known for its high-end townships like Country Garden Phoenix City. Apartments at Country Garden Emerald Bay can sell for as low as $1,300 per square meter. On the other hand, condos at Shunde Future City cost more than $3,500/m².
Poly Real Estate Group
Poly Real Estate Group is a subsidiary of Poly Group, a Chinese state-owned enterprise. Since its founding in 1992, the company has designed, developed, and sold dozens of properties throughout mainland China.
They also operates internationally in Australia, the UK, and the US under the name Poly Global.
Poly Real Estate is best known for its heavy involvement in the design of its properties. The company's philosophy emphasizes comfort, nature, and harmony in their developments. It has also collaborated with major design firms like ONE-CU and UAP.
Properties like Poly Moonlight Bay and the Poly Peninsula 1 exemplify this commitment to modern aesthetics.
The company's residential portfolio primarily consists of high-rise apartments, villas, and multi-use complexes. The majority of its developments contain luxury condos or villas. However, buyers can find a small handful of mid-range and affordable options.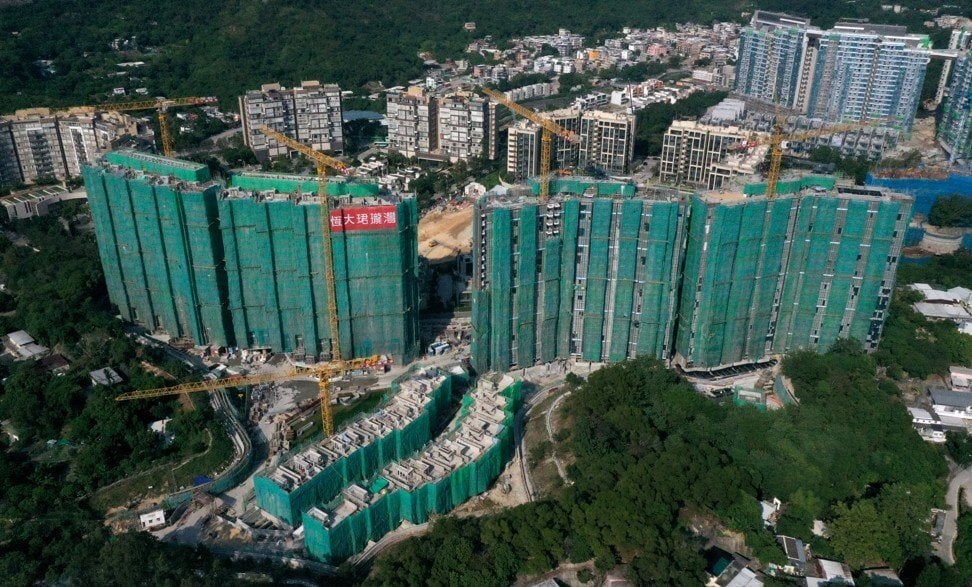 Evergrade, which is mentioned further down this list, recently entered Hong Kong's "budget" market with flats selling out in under a day. Prices at their Emerald Bay project in Tuen Mun began at HK$3.2 million (US$400,000) for a 21 square meter unit.
Vanke
Vanke is yet another large Chinese Fortune 500 developer. Established back in 1984, they now operate in China, the UK, the US, and Malaysia.
This developer has also been quite resilient all throughout the COVID-19 crisis, using the opportunity to acquire shares in smaller competing developers like Tahoe.
Residential properties are Vanke's bread and butter. Since its founding, it has completed over 1800 projects in China alone. It is also a leader in sustainable housing development.
Vanke's charity arm, the Vanke Foundation, promotes waste-reduction and other green initiatives in their communities.
The majority of the firm's projects are mid-range developments. According to the company website, Vanke aims to build "quality housing for ordinary people to live in."
That said, it does offer an impressive range of properties, including high-rise condos and detached homes. Vanke also has some luxury options, such as Vanke Fifth Park, and some affordable units.
Sunac China Holdings
Sunac China Holdings emerged in 2003 to become one of the top five Chinese property developers. This relatively young firm is on the Fortune Future 50, which lists companies with high growth potential.
It primarily develops residential, commercial, and mixed-use properties in major Chinese cities like Shanghai and Shenzhen.
Sunac's brand philosophy is "passion for perfection." Its high-end developments reflect that idea. One Sino Park, for instance, is an architecturally-stunning complex built into the side of a cliff.
The company has also completed numerous cultural tourism projects, including an indoor ski resort.
A primary focus on luxury housing  makes Sunac one of the more expensive brands on this list. Its average price per square meter is nearly $2,300 – the highest cost among any of China's "Big Five" developers.
Additionally, the majority of Sunac properties are located in major cities, further raising their cost.
Longfor Properties
Longfor Properties is one of the fastest-growing developers in China. Since its inception in 1993, it has completed more than 800 real estate projects. The company was also one of the first to develop shopping malls in the country.
Longfor is best known for its unconventional residential projects. In addition to standard high-rise apartments and townships, they've undertaken many retirement home and urbanization initiatives.
Although the company often leases its own properties, it has a wide range of options available for sale. Longfor has three primary real estate brands – Chianti, Splendor, and Rose & Gingko – along with many other developments.
Prices range from just over $1,000 per square meter to upwards of $4,000, depending on property type and the city it's located in. Obviously, buying a house in Shanghai is going to cost a greater amount compared to Shenyang.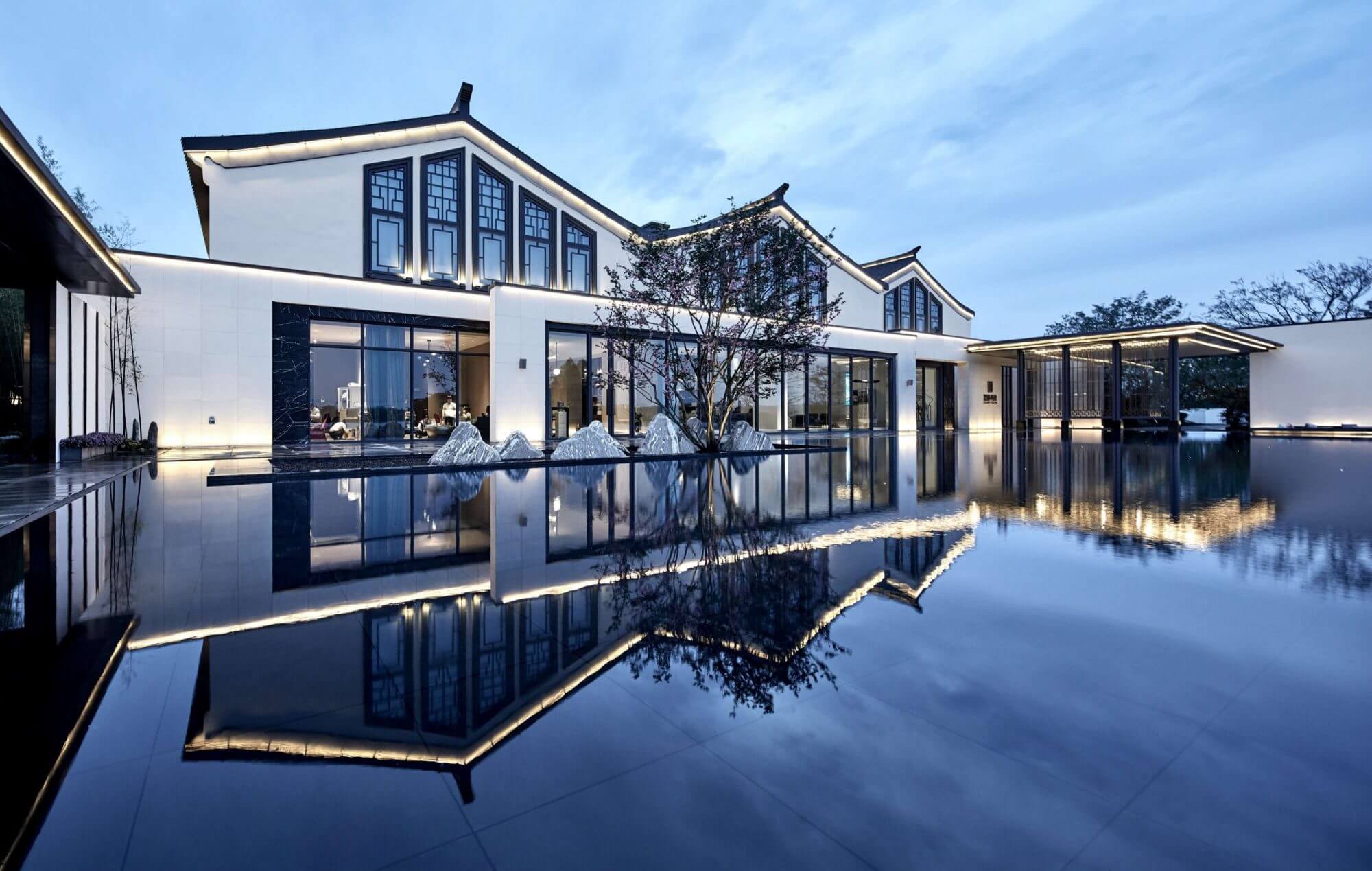 Seazen focuses on building luxury housing projects moreso than apartments and flats. Here's one of the more stunning homes Seazen has developed.
Seazen Holdings
For the past decade, Seazen Holdings has ranked among the top 20 real estate companies in China. This Shanghai-based firm has completed over 500 projects in 100 different Chinese cities.
They primarily specializes in residential real estate, but have also developed many commercial projects.
Seazen's core philosophy is "happy home and happy life." At all of its properties, the company aims to provide stylish, high-quality units with premier resident services.
They currently have three major design categories of residential developments – New Chinese Style, Modern Minimalism, and Metropolis.
In general, most of Seazen's properties fall into the luxury or upper-mid-range categories under three tiers. The lowest is "Happy Living", which targets younger buyers looking for a stylish space.
The second, "Dream Realizing", offers upgraded features and quality. "Exclusive Enjoy" is the highest tier with luxury units and high-end amenities.
China Resources Land
China Resources Land is one of the most diversified companies on this list. Along with real estate development, the firm has subsidiaries in healthcare, finance, technology, and many other sectors.
It has also developed a wide range of properties, including high-rise apartments, industrial complexes, and commercial buildings.
This company is best known for its massive projects with thousands of residential, retail, office, and mixed-use units. China Resources Land is the primary developer behind Guangzhou Science City (GSC), a science and tech park.
GSC includes large offices for high-tech companies along with housing and other supporting infrastructure.
China Resources Land offers affordable, mid-range, and luxury options. Developments like Half View Mountain Manor exemplify its high-end developments with sleek designs and ample amenities.
Other properties, like Qinghe Oak Bay, offer more affordable units without sacrificing quality.
China Overseas Land & Investment Ltd.
Since 1979, China Overseas Land & Investment (COLI) has developed and sold thousands of properties in Hong Kong and Mainland China.
The company has won a variety of awards for its projects, sustainability initiatives, and corporate governance. In addition to property development, it has also worked with the Chinese government on various infrastructure projects.
COLI is one of the most sustainable developers in China. In its corporate philosophy, the firm strives to be a "good citizen" that works in harmony with the environment. For its sustainability efforts, COLI has won numerous honors and green building certifications.
The company has a diverse array of residential projects throughout China. The majority of these are high- and low-rise apartment buildings.
Given the firm's expansive portfolio, buyers can find a variety of affordable, mid-range, and luxury options, but its most recent developments have targeted wealthier clientele.
R&F Group
R&F Group is a major international developer that originated in Guangzhou. Since 1994, it has sold over one million homes in China alone. The company also has a presence in five other countries – the US, the UK, Malaysia, Australia, and Cambodia.
R&F develops residential, commercial, hospitality, and mixed-use real estate. It is consistently listed as one of the top ten Chinese property developers, and it has also won awards for its sustainability initiatives.
For lots of its properties, R&F Group offers realtor and on-site management services, which are appealing to first-time buyers.
With its residences, R&F provides a first-class experience for its buyers in terms of service and quality. Its Chinese properties consist of various high-rise, detached villas, and large township developments.
However, the company doesn't have many new projects in Mainland China, choosing instead to focus on hotels and international ventures.
Evergrande
As of late-2023, Evergrande filed for bankruptcy projection after defaulting on a major bond payment. The massive size and long history of this company still makes it worth mentioning though – even if we don't suggest buying from them.
With a 25-year history, the firm has completed more than 900 commercial, residential, and infrastructure projects throughout China since 1997. It is also currently listed on the Fortune 500.
The company is best known for its involvement in building the Flower City Stadium in Guangzhou. The stadium broke ground in 2020, and it is set to be the largest football arena in the world.
Evergrande is also behind Ocean Flower Island, a man-made archipelago with theme parks, malls, and museums.
Along with these large-scale projects, Evergrande has also developed numerous residences and townships in China. Potential buyers can tour its properties through online listings, video calls, and even VR.
The company's housing developments primarily consist of luxury condos and villas, but it also offers mid-range and affordable options.
You should exercise additional caution with Evergrande and a few other Chinese property developers on this list with a higher-than-average amount of debt. Still, the sheer size of the company makes it worth mentioning.
Skip the Next Western Recession
Learn the best places to invest - and where to avoid - by downloading our free Investment Cheat Sheet.