Buying real estate in Vietnam is a solid bet on economic, demographic, and political trends. And choosing a good property developer in Vietnam is among your most important first steps of investing here.
Vietnam's economy and population are growing. Thanks to a strong urbanization rate, property values are on the rise. In fact, the country's average GDP growth has exceeded 7% in the past three decades.
A competent Vietnamese government is yet another appealing factor. They've taken important steps to liberalize the economy and welcome foreign investment, drawing manufacturers looking for alternatives to China.
The country has also outperformed much wealthier nations in its handling of COVID-19.
At the same time, property values have remained relatively low. Most apartments cost under $100,000, and even most luxury units go for less than $500,000.
Granted, these low prices partially stem from market entry barriers and Vietnam's leasehold property system. Foreigners can only own real estate on 50-year leases, but that may change in the near future.
Buyers also face challenges endemic to most frontier markets, such as language barriers and unreliable sellers.
Most foreigners opt to buy from developers to circumvent those issues. But not all Vietnam developers are equal. Subpar companies frequently experience delays, cancellations, and structural issues that can undermine your investment.
When buying real estate in Vietnam, you should look for a developer with a sound reputation and a proven track record of completed projects. Based on these criteria, the following companies are among the best real estate developers in Vietnam.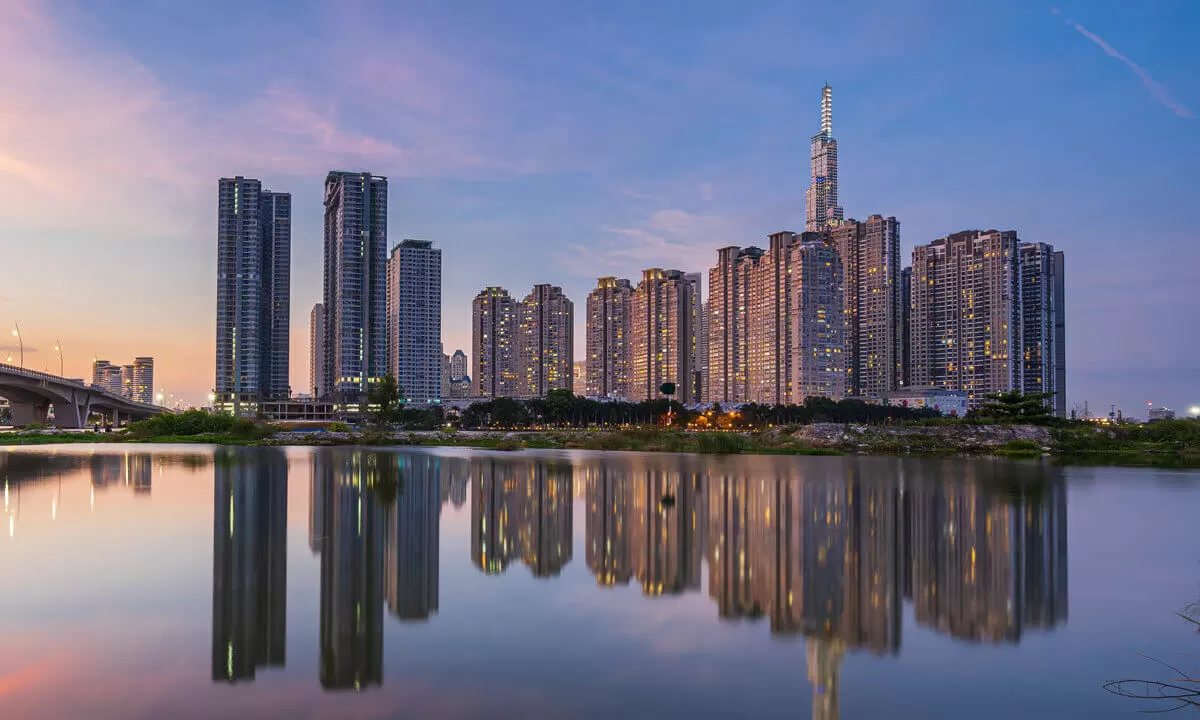 Vietnam's best property developers include both foreign and local firms. Vinhomes, and their "Central Park Complex" in Saigon shown above, is a perfect example of a top local developer.
Vinhomes (Vingroup)
Vinhomes is one of Vietnam's largest real estate developers. The company is a subsidiary of Vingroup, an established conglomerate with a presence in industries ranging from hospitality to healthcare.
In the real estate sector, Vingroup has a diverse portfolio of properties that includes homes, condos, superstores, resorts, and malls. They've won top-tier awards for these projects from organizations like Euromoney Magazine and the Vietnam Report Joint Stock Company.
As Vingroup's primary residential developer, Vinhomes has completed numerous high-end apartment and neighborhood projects throughout Vietnam. The firm is best known for developing Landmark 81, Vietnam's tallest building, in Saigon's Vinhomes Central Park.
The majority of Vinhomes' developments are luxury residences with ample amenities, and their unit costs reflect that standard. Most condos in Vinhomes Central Park, for instance, cost around $325,000.
However, given the breadth of its portfolio, Vinhomes also offers mid-range options. A unit in Vinhomes Royal City in Hanoi typically runs just under $100,000.
Novaland
Founded in 1992, Novaland has grown into one of Vietnam's biggest names in real estate development.  It has a diverse portfolio of commercial, retail, and residential projects located primarily in Ho Chi Minh City.
To date, Novaland has completed over 30 residential developments. These include high-rise condominiums like Saigon Royal along with villas such as Lakeview City. Novaland has won various awards for these projects, including various accolades in the Vietnam Property Awards.
Like others on this list, Novaland primarily offers luxury developments. Units at major complexes like Sun Avenue and Lakeview City typically cost upwards of $250,000. The company does have some affordable options, such as a $60,000 unit at the Richstar.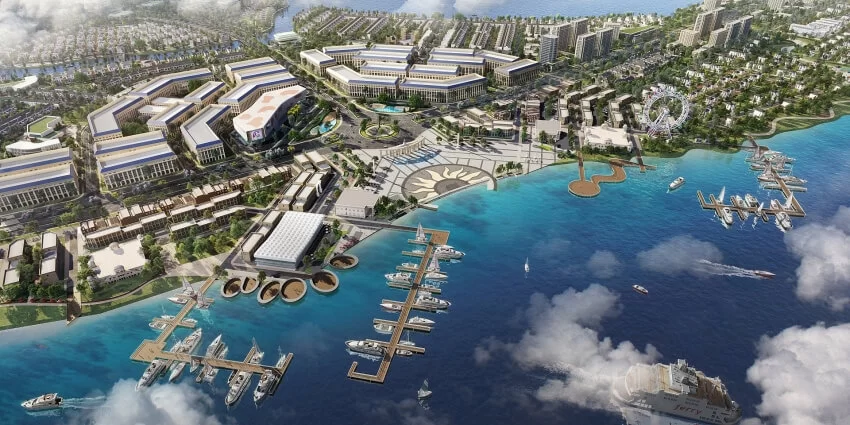 Novaland has ambitious plans, including Aqua City – a smart urban area about 20km northeast of Saigon.
FLC Group
FLC Group emerged in 2008 to quickly rise to the top of Vietnam's property market. The company consists of subsidiaries in various industries, such as finance, media, and technology. It also recently launched its own commercial airline, Bamboo Airways.
In just over a decade, FLC has completed more than a dozen developments and won top-tier awards from BCI Asia and the Vietnam Report Joint Stock Company. These projects include high-rise towers in the heart of Hanoi as well as resort villas in Quy Nhon.
Despite the company's prestige, many FLC units are surprisingly affordable. An apartment at Urban Garden City costs just $42,000, and townhomes at FLC Residences Samson run less than $60,000.
You can find higher-end listings at properties like FLC Twins Tower, where units sell for roughly $175,000.
Dat Xanh Group
Dat Xanh is among Forbes' Top 50 Companies in Vietnam, and groups like BCI Asia have consistently named it one of the top Vietnamese developers.
While the company's primary focus is on residential development, they've also completed resort, office, and trade center projects.
In addition to property development, Dat Xanh offers a variety of real estate services. It provides on-site management at each of its properties along with brokerage and consultancy for buyers and sellers.
This makes Dat Xanh appealing to first-time investors looking for a streamlined experience. They offer a variety of housing types (condos, townhomes, etc.) primarily in HCMC. A majority of these developments are mid-range.
At Opal Riverside, for instance, the average apartment costs $70,000. Dat Xanh does have one luxury complex, Lux City, where units typically cost around $100,000.
Nam Long
Nam Long is a major property investment firm that develops land, housing, and commercial properties. The company is currently one of the fastest-growing and most accoladed developers in Vietnam.
Back in 2019 alone, its revenue grew by 26%, and it won Best Condominium and Best Mixed-Use Development awards from the Asia Pacific Property Awards.
The majority of Nam Long's residential projects target affluent Vietnamese and foreign investors. Most of its housing developments are mini-cities with expansive amenities like fitness centers, convenience stores, and luxurious pools.
This emphasis on high-end complexes makes most Nam Long properties much more expensive than average. The firm's newest projects, Grand Villa and Riverfront Grand Villa, are standalone homes that cost upwards of $700,000.
Likewise, condos at Valora Fuji typically cost around $250,000. The company does, however, offer some mid-range options, such as Falore Fuji.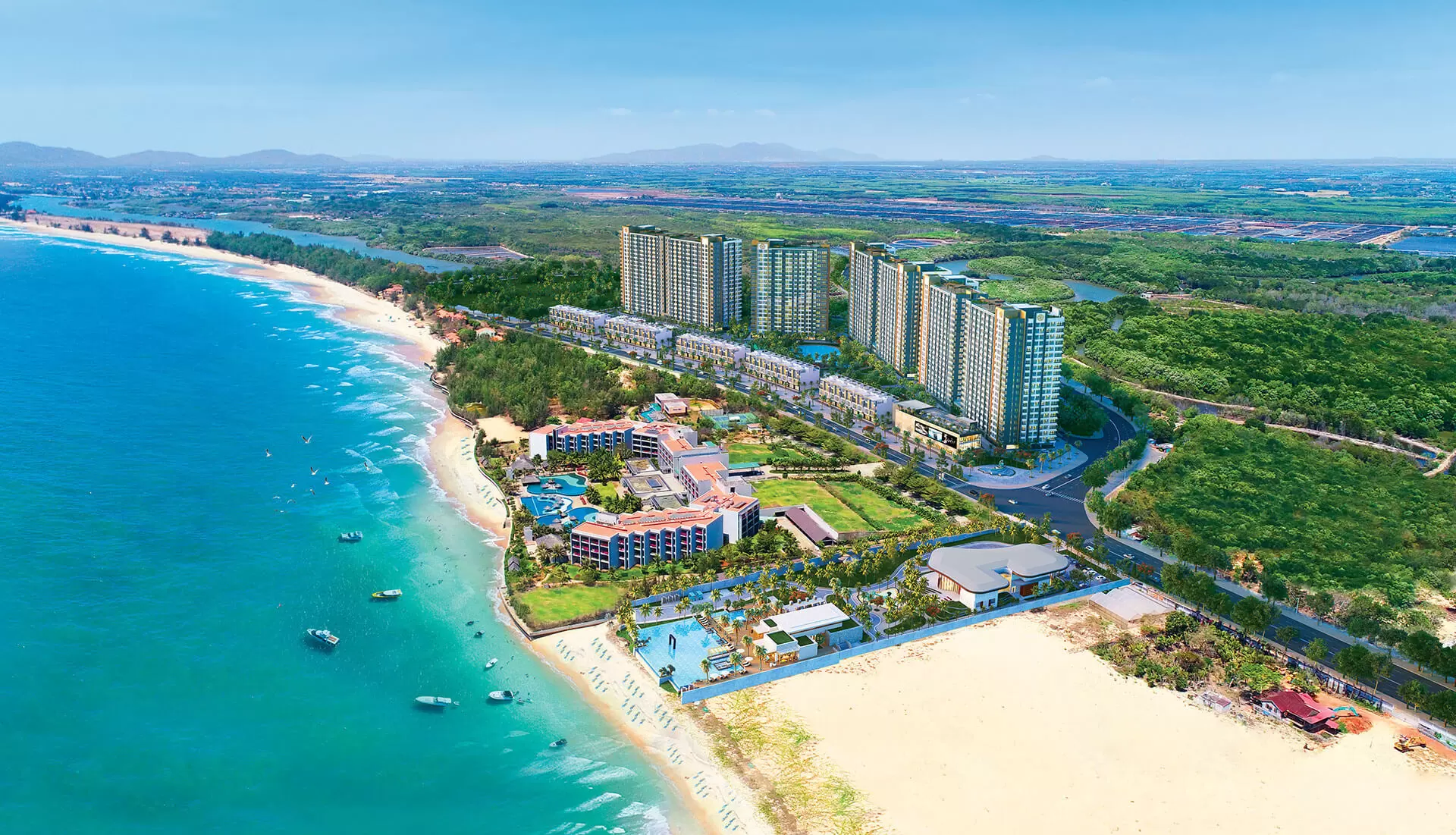 Hung Trinh is now building Ho Tram Complex, one of Vietnam's largest resort developments.
Hung Thinh
Founded in 2002, Hung Thinh is now one of Vietnam's largest real estate companies. The firm's primary focus is on residential developments. Since 2015, BCI Asia has consistently listed it among its Top 10 Vietnam Developers.
Hung Thinh currently owns nearly 20 different brands that specialize in construction, property development, and green technology. The company also owns PropertyX, a well-regarded real estate agency.
With more than 30 housing developments under its belt, Hung Thinh offers buyers plenty of choices. Mid-range apartments at Melody Residences and Rainbow 8X sell for $50,000-$60,000.
Luxury condos at Q7 and Saigon Mia run closer to $150,000. Hung Thinh has also developed high-end villa projects with houses selling for upwards of $1 million.
EcoPark (Vihajico)
EcoPark is a division of Vihajico, an investment firm focused on sustainable development. Since 2003, the firm has set out to construct the first green city in Vietnam under the EcoPark brand.
This expansive project has attracted major partners like the EPGA Academy and Tokyo Medical University Vietnam.
Today, the community lies just outside of Hanoi, and the community is largely complete. EcoPark currently has 12 different residential complexes along with retailers, schools, hospitals, and parks.
Vihajico intends to continue to develop EcoPark by adding more residences and expanding amenities and infrastructure as needed.
EcoPark's residential complexes range from high-rise apartment buildings to waterfront villas. West Bay and Aqua Bay, for instance, offer mid-range apartments for less than $50,000. On the other hand, a villa in Vuon Tung can cost more than $600,000.
BIM Group
BIM Group first emerged in 1994 as a hotel developer. The company is best known for its role in constructing the Halong Plaza Hotel – the first international luxury hotel in Ha Long Bay.
Since then, the company has partnered with major brands like Hyatt and Crowne Plaza throughout Southeast Asia.
In addition to hotels, the company also builds residential developments throughout Vietnam. Most of these projects are luxury lifestyle complexes like the Regent Residences in Phu Quoc and Green Bay Village in Quang Ninh.
BIM Group also led the Phu Quoc Marina project, a multipurpose development on the island.
Given the firm's focus on high-end developments, most BIM group properties are luxury brands that are priced accordingly. Units at the Palm Garden Shop Villas cost over $500,000 on average. For a villa at the Park Hyatt Phu Quoc, expect to pay upwards of $3 million.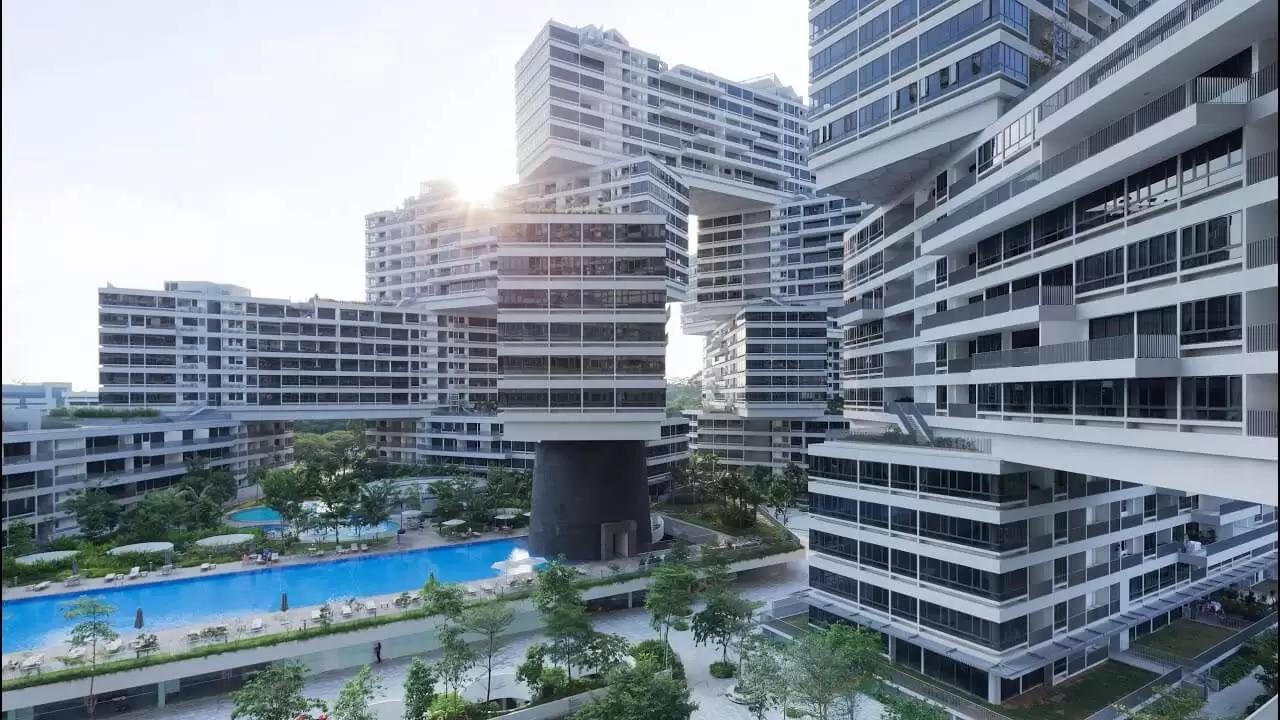 CapitaLand is one of Southeast Asia's biggest real estate developers. The picture shown above is their "Interlace" project in Singapore. Granted, it isn't in Vietnam, but nonetheless is a great example of CapitalLand's ingenuity. 
CapitaLand
CapitaLand is one of Asia's top property developers. This Singapore-based company operates in over 30 countries, including China, Australia, and the US. In Vietnam, the firm has completed nearly 30 projects since it entered the market in 1994.
The majority of CapitaLand's Vietnam projects are hotels and residences. Many of these are traditional condo buildings, such as Vista Verde and De La Sol. CapitaLand also offers serviced apartments managed by its premier hospitality brand, the Ascott.
In 2019 alone, the company earned more than 10 awards from PropertyGuru Vietnam for its hospitality and residential developments.
CapitaLand primarily develops luxury housing with few mid-range options. Condos at the Vista in Saigon cost nearly $200,000. A unit at one of the company's newer projects, D1Mension, typically runs more than $300,000.
Phat Dat
Since its founding in 2004, Phat Dat has become one of Vietnam's most reputable developers. The company is best known for its role in building the Phan Dinh Phung Sport Center in HCMC.
They also frequently collaborate with Vietnam's government to build ecotourism and infrastructure projects.
Phat Dat has completed a variety of residential projects, primarily under its EverRich brand. The company's four EverRich complexes aim to provide high-quality mid-range and luxury apartments. Phat Dat also recently completed the Millennium, a full luxury high-rise and hotel.
At its five completed complexes, the company offers a wealth of options. Mid-range buyers can purchase a unit at the EverRich II for just $60,000. Phat Dat's luxury residences, the EverRich Infinity and the Millenium, often sell between $150,000 and $300,000.
Skip the Next Western Recession
Learn the best places to invest - and where to avoid - by downloading our free Investment Cheat Sheet.